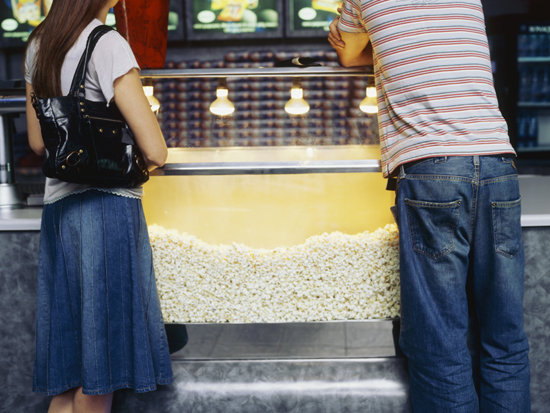 Summer blockbuster season is upon us! We recently learned how the
Summer's hottest actresses got in shape for their roles
, and we're psyched to check out all their new films! There's nothing better than hanging in a cool, dark theater when the outdoors is bringing the heat on heavy, but there's no need to bust your healthy meal plan when you're enjoying a flick. Luckily, lots of movie theaters have taken notice of new healthy food trends, and there are tons of options available to keep you satisfied without overindulging. Now that we're done with all the coming attractions, here's the main event: time to learn about the healthiest options you should take the next time you hit the theaters!
Don't look at the meal menu: Don't fall victim to all of the heavy deals and discount combos — supersizing your drink is not worth the sugar, and that unnecessarily large tub of popcorn will leave you in a food coma. Being able to chow down on nachos, hot dogs, and pizza is a relatively new concept in the movie theater world. There's no reason you shouldn't be able to enjoy a snack at the theater, but avoid the complete meals — most of them weigh in at over 1,000 calories.
Rethink your popcorn: If you get to a theater early enough, lots of concession stands will pop some fresh popcorn for you without the extra salt. If this unfortunately isn't an option for you, at least say bye-bye to the buttery topping. Even if someone offers you a deal, just say no. Opt for a junior-sized popcorn that will leave you satisfied — no one needs a jumbo popcorn!
Sayonara soda: We know that soda is just bad news. Bottled water is always available at the theater, or save some money and fill up your own bottle at home! I was also thrilled to see a coffee bar the last time I was at a movie theater. Grab an equally refreshing large iced coffee at just a sliver of the calories of a large soda.
Keep reading for two more tips for healthful movie theater snacking.