If you wake up with a headache after a night of overindulging, sometimes figuring out what painkiller to take can make the headache even worse. Taking acetaminophen (aka Tylenol) can lead to liver damage, but take note: you're also not supposed to drink while taking ibuprofen.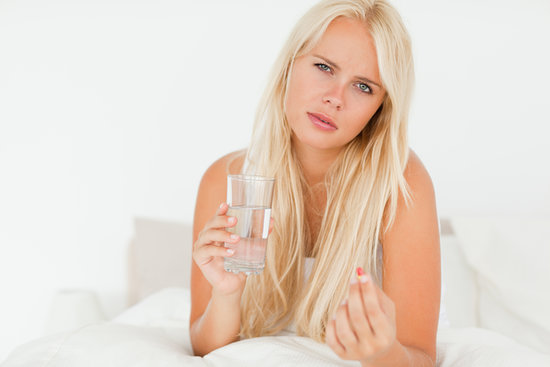 Ibuprofen drugs (like Advil) are part of the anti-inflammatory drug family known as NSAIDs, which can cause tears in the stomach lining if taken on an empty belly. Add alcohol to the mix, and the potential danger is heightened. If you take ibuprofen when drinking more than the recommended amount for women (about two to three drinks), you increase your risk of stomach irritation and bleeding. This is especially true for people who are prone to ulcers.
But wait! Taking Tylenol when you're hungover isn't such a good idea either, and aspirin has its downsides too. To find out more, keep reading.