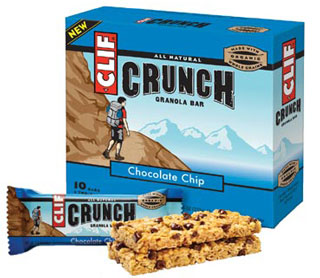 Clif Bar
has been making chewy whole grain
energy bars for almost 20 year now, so it was only a matter of time before the company started making a crunchy version. Reminiscent of the granola bars of my youth,
Clif Crunch
($4.50 for a box of six packages, each containing two bars) comes in the familiar flavors — Honey Oat, Peanut Butter, Chocolate Chip — as well as the gourmet White Chocolate Macadamia. Each pouch contains two slim and crunchy bars just like those of yesteryear. I have tasted all the flavors with peanut butter being my favorite, but my daughters enjoyed the white chocolate version — it's a bit sweeter.
Clif Crunch definitely feels like a lighter treat than the traditional Clif Bar, and although they don't parch your mouth I would save the bars as a post-workout treat. They didn't works so well in the middle of a long ride. Paired with an apple or grapes, a Clif Crunch makes for a nice afternoon snack too.
To see how the Clif Crunch compares nutritionally with Nature Valley granola bars, keep on reading.