Zoe Saldana Diet and Exercise Routine
Zoe Saldana's Fit Philosophy
Happy birthday, Zoe Saldana! The Star Trek 2 and Avatar actress may be used to playing out-of-this-world characters, but her healthy outlook is more down to Earth. Here's how the former ballerina stays strong and healthy.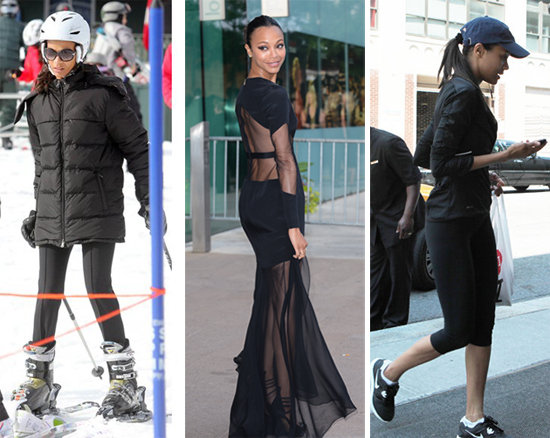 She mixes it up: The Pilates devotee doesn't like to keep things the same. "I get bored really easily," she told Women's Health last year. So she goes to the experts to help motivate her. "If I didn't have a trainer to push me, I'd go walk for about 15 minutes," she said. She also keeps things fun by going for hobbies that keep her active, like skiing in Aspen.
She's not a dieter: The actress isn't a fan of crash diets or starving herself. In fact, Zoe's diet philosophy is all about being well-balanced. "Sometimes I pig out on pasta, but that's OK," she told Women's Health. "The next day, I just eat healthy." She explained more about her outlook to Oprah's O Magazine in 2009: "You can't forget that you only live once, you have to enjoy the pleasures of life and you also have to enjoy the work in life. That means that if you like to eat, then work out, be healthy. Keep that heart strong and healthy!" she said.
She's comfortable in her own skin: She may not have ruled out plastic surgery, but Zoe doesn't lack in self esteem. As she told Glamour in 2010: "I love women. I worship women. Don't want to be any other woman but myself."