Vegan Chocolate Cranberry Zucchini Bread Recipe
Vegan Chocolate Cranberry Zucchini Bread
If your garden is overflowing with zucchinis, try this decadent twist on the classic zucchini bread recipe. It's made with cocoa and dried cranberries for an exceptionally sweet flavor, but the grated zucchini, hidden banana (in place of eggs), and low-sugar content make it a healthy dessert you can feel good indulging in. Plus it's vegan so this bread is low in saturated fat and cholesterol.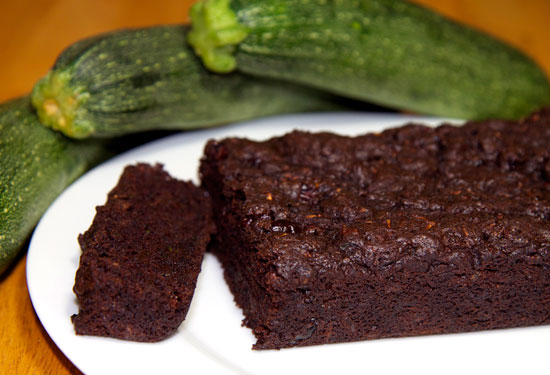 Now let's get baking. Keep reading to see the recipe and find out how many grams of fiber are in one slice.
Modified from the Joy of Baking.
Vegan Chocolate Cranberry Zucchini Bread
Ingredients
1 1/2 cups shredded raw zucchini (one medium)
1 cup whole wheat flour
1/2 cup unsweetened cocoa powder
1 teaspoon baking soda
1/4 teaspoon baking powder
1/4 teaspoon salt
1/2 teaspoon ground cinnamon
1/4 teaspoon ground allspice
1 large banana
1/2 cup white sugar
1/2 cup canola oil
1 teaspoon pure vanilla extract
1/2 cup dried cranberries
Directions
Preheat oven to 350° F.
Shred one medium zucchini in a food processor or with a hand grater. Set aside.
Mix the flour, cocoa powder, baking soda, baking powder, salt, and spices in a separate bowl and set that aside.
Mash the banana with the sugar, oil, and vanilla. Fold in the grated zucchini. Stir in the dry ingredients and then mix in the dried cranberries at the end.
Pour the batter into a lightly greased bread loaf pan and bake for 40 to 50 minutes, or until a toothpick inserted comes out clean.
Serves eight.
Information
Category

Dessert Bread, Breads