Use Pickle Juice For Electrolyte Replacement
Is Pickle Juice the New Sport Drink?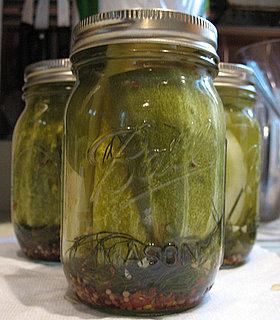 I feel bad throwing out pickle brine, but I never know what to do with it when I eat the last pickle. My friend saves the juice for her Bloody Mary mix but I'm not a big fan of the brunchy cocktail. But apparently pickle brine has another use — as a sports drink!
You lose electrolytes whenever you have an intense workout or sweat intensely. Even though it sounds weird that pickle juice makes a good electrolyte replacement, it totally makes sense when you consider how much salt is in the juice. Sodium is an essential component in helping the body retain fluids, which is extremely important for long workouts, marathons, or any other endurance activity. Not having enough fluids in your muscles can result in some serious cramping and dehydration.
It's definitely an acquired taste, but if you feel like you want a natural alternative to Gatorade, try adding some pickle juice to water, or make some pickle juice popsicles. I might give it a shot the next time I'm out on a major bike ride or an all-day climb in hot weather.
Source: Flickr User nonelvis