If there's one thing the sneaker-obsessed can agree on, it's that there are some brands that defy fleeting trends and seasonality. To this point, there's no argument that Converse, Keds, PF Flyers, and Superga have stood the test of time without ever compromising a simple rubber-soled, canvas-top silhouette in the process. Perhaps, that's what makes these iconic brands — all synonymous with old-school laid-back style — a favorite for celebrities, sleek style setters, and everyone else you know. But as a devout sneaker classicist myself, I think the appeal of a high-top Chuck or a cherry red low-top Superga is deeply rooted in its history, its functionality, and its easy ability to evoke a nostalgic-meets-sporty vibe simultaneously.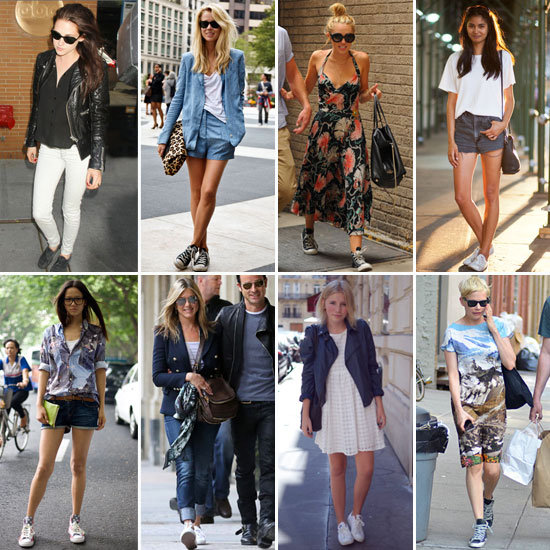 A few of our favorite classic kicks spotted (clockwise from top left): Kristen Stewart, street style, Miley Cyrus, street style, Michelle Williams, street style, Jennifer Aniston, street style
Steeped in a rich Americana culture — save for Superga's Italian-bred beginnings — these household names have been around since the early 1900s. That is to say, it's entirely possible your grandparents were rocking the same kicks you are today. Maybe it's my memory of The Sandlot and the film's emphasis on PF Flyers — "guaranteed to make a kid run faster and jump higher." Maybe it's the fact that Keds can complete a plethora of looks, from girlie 1950s poodle skirts to Grease-inspired all-leather getups. Or maybe it's because when we think of Converse, we instantly are transported to the innocence of our playground days. Whatever it is that strikes a chord first, it's pretty evident that, like our striped t-shirt fixation, there's a real practicality that comes with wearing these classic sneakers. You can style them with something as casual as denim or as ladylike as a tea-length dress — either way, it's a no-fail look with an effortless feel.
Inspired by the stylish stars (picture above) that wear them, read on for updated classic kick styling tips.