Recipe For Low Sugar High Protein Lemon Raspberry Muffins
Low-Sugar High-Protein Lemon Raspberry Muffins
Berries are finally in season! I picked up a few pints of raspberries and am loving them sprinkled on my cereal, in my salad, and on my frozen yogurt, but I've also been baking with them. I tried a new muffin recipe for my Sunday brunch. It sounded so light and summery, but I thought I could make it even healthier with a few substitutions. I swapped out all-purpose flour for whole-wheat flour to up the fiber content and replaced buttermilk with Greek yogurt. Not only were these muffins a cinch to whip up, they were a hit, too! I'll definitely be adding this to my recipe book.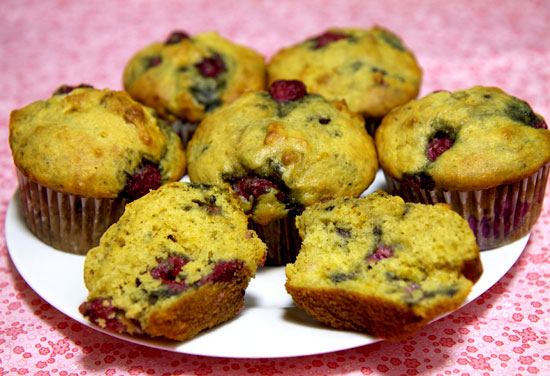 Keep reading to check out the recipe and learn the nutritional stats on these muffins.
Adapted from Eating Well recipe
Low Sugar High Protein Lemon Raspberry Muffins
Ingredients
1 lemon
1/2 cup sugar
1 cup Chobani plain yogurt
1/3 cup canola oil
1 large egg
1 teaspoon vanilla extract
2 cups white whole-wheat flour or whole-wheat pastry flour
1 1/2 teaspoons baking powder
1 teaspoon baking soda
1/4 teaspoon salt
1 1/2 cups fresh or frozen (not thawed) raspberries
Directions
Preheat oven to 400°F. Coat 12 large (1/2-cup) muffin cups with cooking spray or line with paper liners.
Use a vegetable peeler to remove the zest from the lemon in long strips. Combine the zest and sugar in a food processor; pulse until the zest is very finely chopped into the sugar.
Add yogurt, oil, egg, and vanilla. Pulse until blended.
Combine whole-wheat flour, baking powder, baking soda, and salt in a large bowl. Add the yogurt mixture and fold until almost blended. Gently fold in raspberries. Divide the batter among the muffin cups.
Bake the muffins until the edges and tops are golden, 18 to 25 minutes. Let cool in the pan for five minutes before turning out onto a wire rack. Serve warm.
Makes a dozen muffins.
Information
Category

Muffins, Breads
Each muffin contains 3.2 grams of fiber and almost five grams of protein! Fairly substantial for a little muffin.