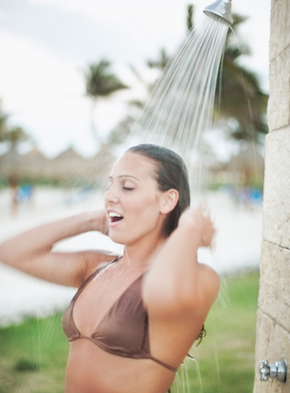 The other night I caught myself saying, "There's nothing quite like a hot shower." Yikes — what's happening to me? Have showers become the highlight of my existence, the pinnacle of pleasure? A typical shower for me consists of doing a usual routine under a blazing hot waterfall of water — certainly for more than the recommended 10-minute time limit (to prevent dry skin). So what's so wrong with my technique? If it makes me happy, it can't be that bad, right?
Well let's start with the pros about taking hot showers. A hot shower can warm you up on a cold morning, relax you after a workout, and calm you before bed. It also acts as a natural decongestant to relieve cold symptoms. The hot steam will moisturize your nasal passages and if you're running a slight fever, a hot shower can help break it. And if you have a powerful showerhead like mine, the hot water will soothe stiff muscles and relieve a stiff neck.
But what about cold showers? Here's why you may want to turn down the temps.