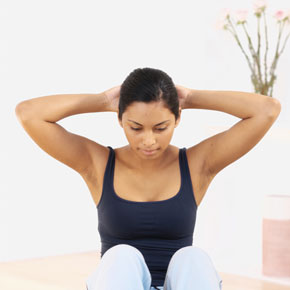 Don't worry your pretty little head full of hair, this exercise really
doesn't require any equipment
— not even a razor. The shaving I'm talking about comes in the form of your hands and it's in reference to the motion. It will, however, shave your
triceps
down into sculpted muscles.
Simply take your hands behind your head with your thumbs touching each other and your index fingers also joined together to form a diamond shape. Place it at the nape of your neck and in one singular smooth motion, press your hands above your head as if your hands are shaving the hair off the back of your head. It is a diagonal motion that will leave you looking ready to dive into a pool of water. Bring your arms back down to your neck and repeat the move while keeping your abs engaged and the tops of your shoulders down. Do three sets of 10 and hug yourself for all your hard work (and a stretch, too!).
Easily performed in a standing or seated position, it is a simple way to add a little oomph to your workday routine or your holiday travel.