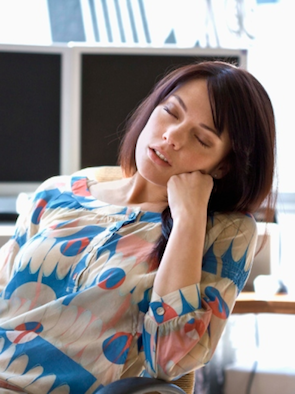 Do you ever get the feeling that your brain has a thick layer of fog surrounding it? You feel extra tired and unable to focus? I refer to this sensation as "foggy brain" because it feels like something is interfering with my mental clarity.
Possible main culprits for that fogged over feeling include lack of sleep, eating fried foods, drinking too much caffeine and soda, stress, and a possible food intolerance or allergy. The good news? There are some quick fixes to make your brain feel better so you can get back to work . . . and play!
Alter Your Diet — March is National Nutrition Month so try to be extra mindful of what you're putting into your body. Steer clear of processed and sugar-filled foods and eat lots of brightly colored fruits and veggies. Eating nutrient-rich food is important because as soon we eat, our bodies need to break down the food so that these nutrients can be absorbed by our blood and used to refuel our body (and brain!) to function optimally. If you consume sweets, your blood sugar level will spike and the drop, causing fatigue and moodiness. When it comes to carbs, it's best to stick with whole grains since your body slowly utilizes them as a source of energy, while keeping your blood sugar levels stable.
Find out what else you can do to make your brain feel better.