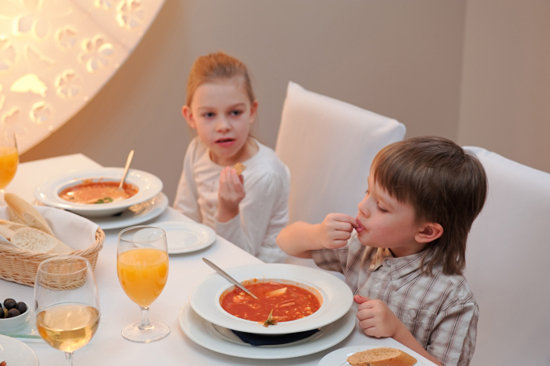 Before kids, you may have been the restaurant patron that slyly gave the stink eye to the neighboring table full of rowdy kids and parents who seemed oblivious to their lil one's behavior. But now that you're the one looking to dine somewhere that doesn't require mama to serve or clear the food, how do you avoid becoming "that family"?
While it starts with discipline and manners at home, there are some tricks that experienced mamas have up their sleeves:
Preview the Menu: These days, most restaurants have their menus online. Before heading to the restaurant, preview the menu and have a few options picked out for both you and the kids. This will eliminate any indecision that could delay ordering once the waitstaff arrive at your table.
Have an Ordering Strategy: For some families, ordering the kids' food as soon they sit down works — it means the lil ones can start eating while the parents review the menu (see above) or have their appetizers. We've found this to backfire in our family, as our tots then finish their meals before we ever start and let's just say they don't enjoy patiently waiting for us to finish up! For us, ordering an appetizer the whole family can enjoy as soon as we sit down is the way to go! Know what works for your family and stick to it!
Know Your Exit Strategy: If your lil one just won't stay in her chair, or if whining and crying start up, know which parent will be taking her outside until she calms down. Nothing's worse than two parents arguing about who will take their unruly tot out for a spell.