Just like running endlessly on a treadmill, swimming laps can be super boring repetitive. Exercising in a pool is so refreshing though, especially on Summer days that are too hot to jog or bike outside. If swimming laps isn't your cup of tea, here are some ways you can burn calories and strengthen your muscles while staying cool in the pool.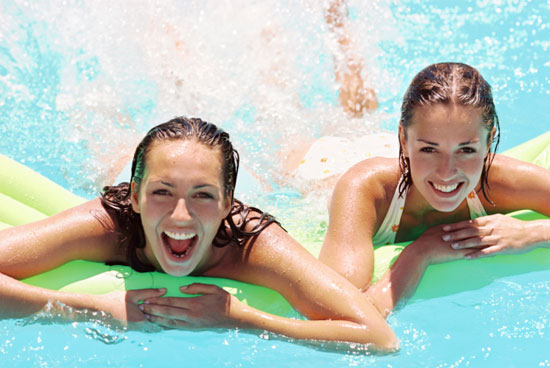 Do triceps dips: Use the pool stairs and place your hands on the top step and your feet two or three steps below. Tone the backs of your arms by doing three sets of 15 to 20 reps.
Instead of chatting it up on a lounge chair with your best friend, talk while treading water. Just 10 minutes will burn 45 calories.
Swim over to the side of the pool or hold onto some pool noodles and do kicks, just like when you were a kid. Focus on keeping your legs straight and alternately fluttering them like a synchronized swimmer, or move them at the same time like a mermaid. You're sure to feel this in your quads and glutes.