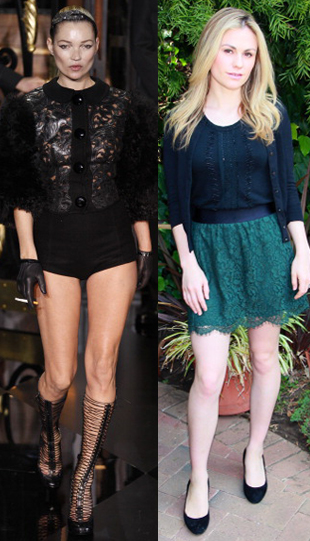 In the recent issue of
Health
, actress
Anna Paquin
discusses Hollywood's distorted perception of
what's considered healthy
. She says:
"I think there's also a really big difference between looking healthy and being healthy. People in this town have a weird tendency to say, if someone's lost weight, "Oh my God, you look amazing." And you're like, "I just had my tonsils out and didn't eat for three weeks." Literally, I had my tonsils out last year. You're on a liquid diet so, of course, you lose weight. But it's not healthy."
Other celebs have also weighed in on this topic; Bethenny Frankel admitting to growing up with an unhealthy body image, and constantly obsessing over her weight. Hilary Duff admits that she let herself get too skinny between the ages of 17 and 19, eating nothing but steamed vegetables and broiled or grilled chicken. She soon realized that not giving your body enough of what it needs can be really dangerous.
Keep reading about the other side of this debate.