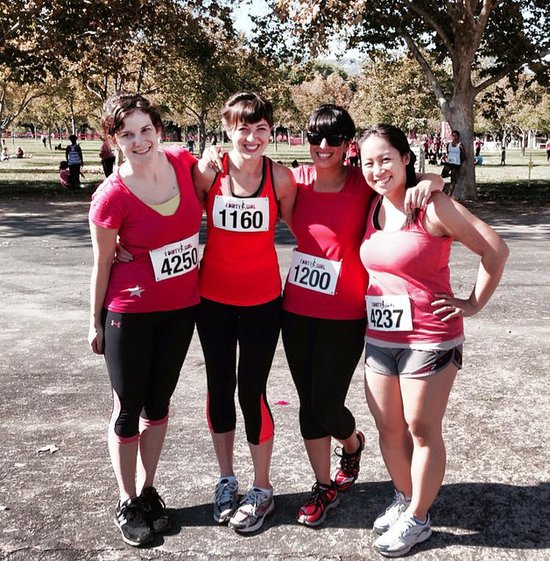 Photo: Michele Foley
A week after tackling the Nike Women's Half Marathon, I was invited to run a Dirty Girl 5K Mud Run. Still on a runner's high, I said yes — while also dragging my half-marathon group (seen above) with me. While there are a lot of mud runs to choose from, they all challenge participants to run from muddy obstacle to muddy obstacle until the sweet victory of the finish line. A great gateway run to a more serious race or just a fun way to hang with friends, here's what to know before playing in the mud!
Go With a Group
This isn't the sort of thing that people show up at alone or try to set personal bests. Unless you're putting yourself through a grueling Tough Mudder, you'll find that most mud runs are fun runs — including the Dirty Girl 5K. Expect to see a lot of matching outfits and groups of friends tackling the course together. Believe me, it's a lot more enjoyable to have someone with you when you land in that first mud pit!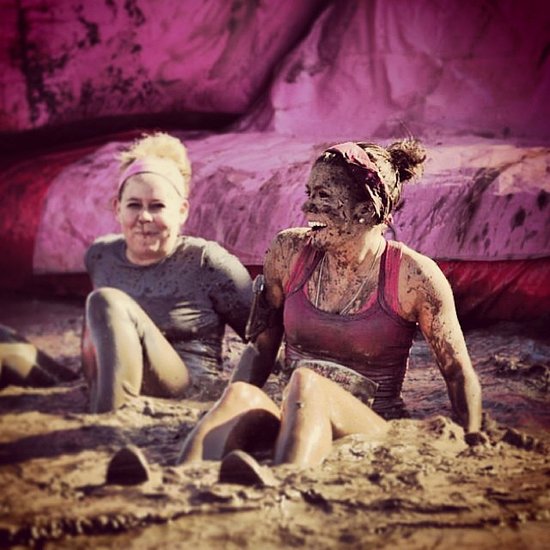 Train . . . Well, Sort Of
While it's always a good thing to train for something new, you'll still be OK if you show up to the starting line having never run a day in your life. There are a lot of walkers — and that's OK. The Dirty Girl 5K is a fun run that welcomes all levels of fitness. The lanes are wide enough to handle both runners and walkers, and while some of the obstacles require a bit of climbing, everything is manageable. It's also OK to walk around any of the obstacles you don't feel comfortable with; no one will be there to judge, disqualify, or heckle you if you do. If you do want this to be your gateway into running, start with our eight-week walker-to-runner plan.
Clothing Matters
If you are worried about ruining your clothes, don't be — the mud does wash out. That being said, you are going to get really muddy and really wet. Avoid materials like cotton that will soak up all the water and mud, resulting in an extra five pounds on your frame. Workout gear made from synthetic materials like nylon, polyester, and spandex are great choices. If you usually go commando during your workouts, today is not the day for that. The mud gets everywhere — yes, even there. Wear your most protective pair of undies or compression shorts, and you should be fine. Since cleaning mud-soaked shoes can be a little more difficult, use an old pair of running shoes. Or, if you see a lot more mud runs in your future, it might be time to designate a pair just for these types of races.
The Shower Scene
There aren't any Kiehl's toiletries awaiting you at the finish line, but there is a tented area where you can rinse off and change. While most people don't, I was incredibly thankful that I thought to pack a small bar of soap and washcloth. Bring plenty of plastic bags to store your muddy outfit, and don't forget a towel and change of clothes!
Have Fun
You entered a mud run, embrace it — now is not the time be squeamish. Enjoy yourself and the mud.