Despite what you might think, pull-ups are not impossible and can be adjusted for any fitness level. This infamous exercise offers a great upper-body workout that quickly tones the back, arms, and chest. Not only will it make you stronger, but conquering this move will also give an extra boost of confidence and help you feel like you can tackle anything — because let's face it, you can!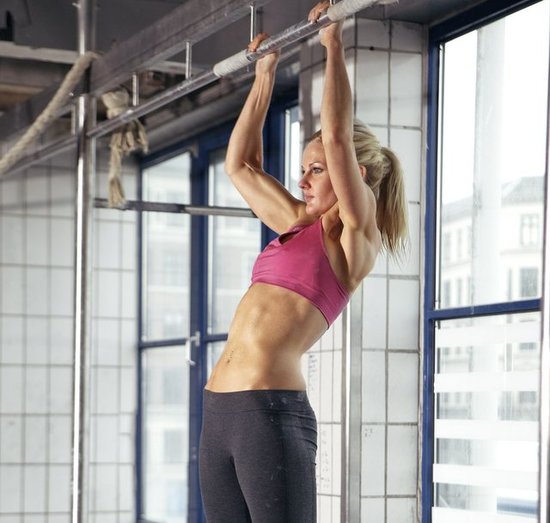 Beginner Pull-Ups
Assisted Pull-Up Machine: The pull-up machine is a great way to try your first go at pull-ups. The machine uses counterbalance weights, which means the higher the weight you set the machine, the easier the exercise becomes. Start by setting the weight to 20 pounds less than your weight, complete three to five reps, and then adjust the weight accordingly. Here are step-by-step instructions on how to use the assisted pull-up machine at your gym.
Band Pull-Up: With the help of a superband — a giant, two-inch-thick rubber band — you can tackle consecutive pull-ups. All you have to do is wrap the rubber band securely around the pull-up bar, put it under one knee (or one foot for even more assistance), grab onto the bar (stepping off a stool if needed to reach), and begin your pull-up. Superbands are the same length, but the wider the band, the more assistance. Eventually, you will no longer be a "groupie" to the band and will be able to use your body weight!
Intermediate Pull-Ups
Jump Pull-Ups: Consider jump pull-ups (pull-ups with a jump start) the next level after the assisted pull-up machine. Standing under the bar, jump up to grab the bar, harnessing the momentum of the jump to pull your body and chin to the bar. If your chin doesn't come close to the bar, don't give up — this move often takes practice.