It can be difficult to embrace that pregnancy makes things like running or yoga hard to do. When I first found out I was pregnant, I was so excited to grow a gorgeous belly and become a momma. Innocently, I had no idea how intense the crappy feelings symptoms of pregnancy would be. If you recently discovered there's a bun in your oven, or you're planning on becoming pregnant in the near future, check out how you can alleviate some of the issues pregnancy brings up that might get in the way of your workouts.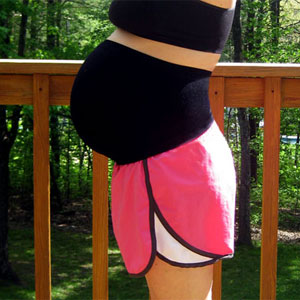 Urinating often: In a 30-minute workout session, you may have the urge to pee three different times. Work out close to a bathroom so you can quickly relieve yourself and get back to your workout.
Feeling overheated: Head indoors where the AC is flowing, and make sure you're wearing comfortable workout clothes made of breathable wicking material. If you love being outside, move your workouts to a pool or lake.
Round ligament pain: As your belly expands, the round ligaments that support your uterus are getting stretched out, so it makes sense that you'd feel intense cramp-like pains in your lower belly. Wearing a supportive compression band that's specifically designed for prenatal exercise might help. If you feel a sharp twinge during a sweat session, reduce the intensity of your workout, and if that doesn't bring relief, take a break.
Keep reading for more ways to continue exercising while pregnant.