From pimples to bloating, cramps to spontaneously bursting into tears, PMS and period symptoms not only have the ability to ruin your day, but they can also put a damper on working out. Since exercise actually alleviates many of these uncomfortable feelings, here are some of the best ways to handle common PMS symptoms while working out.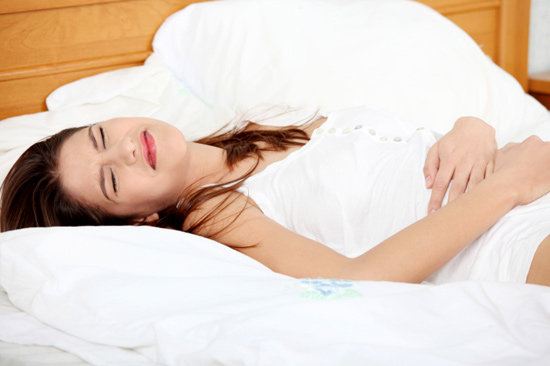 Bloating: Swelling in your lower abdomen doesn't always inspire you to sport a fitted tank or leggings. Forget impressing anyone and go for comfort by wearing loose-fitting pants that have wide waistbands and these tanks that hide a pooch.
Cramps: When your uterus contracts, you can feel mild to debilitating cramps. If you aren't bound to your bed in the fetal position, get moving. Doing some cardio that gets your heart pumping such as jogging, brisk walking, riding your bike, or swimming releases pain-relieving beta-endorphins to alleviate your discomfort, and it also helps to decrease those cramp-inducing muscle contractions. If the pain is really bad, try these yoga poses for relieving menstrual cramps.
Keep reading to learn how to work out when dealing with other period symptoms.