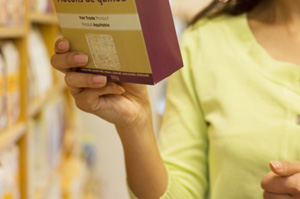 Earlier this week the FDA
issued warnings to several food companies
over their potentially deceiving product labels. One of the chief label issues: prominently indicating that the products are trans-fat free even though they still contain high levels of saturated and unsaturated fats. Products accused of this violation include salad dressing, ice cream, shortening, and even frozen fish.
Obviously, a product containing no trans-fats is laudable, but savvy label-readers know that doesn't necessarily equal a healthy food. And there is, of course, no major indication on the package that these products contain high amounts of other fats. I've said it before and will say it again: be sure to check a product's nutrition label thoroughly! Food companies aren't in the business of keeping you healthy, they're in the business of selling food. (Remember the Fruit Loops "Smart Choice" debacle?)
Moral of this story: don't let flashy packaging undermine your food choices. While I'd hope the majority of health-conscious consumers would read past such claims on, say, a package of shortening, when you're in a hurry to finish your shopping it's easy to grab a product that looks healthy enough. For more ways to outsmart the manufacturer's packaging tricks, check out how to read between the lines on food labels.