The MPMan was short-lived, but the first MP3 player mass-marketed in the US paved the way for the portable media player revolution. Now that we've gotten to know Kane Kramer, who developed the first MP3 player, and Nathan Schulhof, who created a precursor to iPod and iTunes, it's time to take a look at the history surrounding the MPMan.
Korean electronics company Saehan created and distributed the player in 1998. Michael Robertson, CEO of MP3.com, imported the MPMan into the US and sold it on the MP3.com website. Around the same time, Eiger Labs also imported the player and rebranded it (pictured).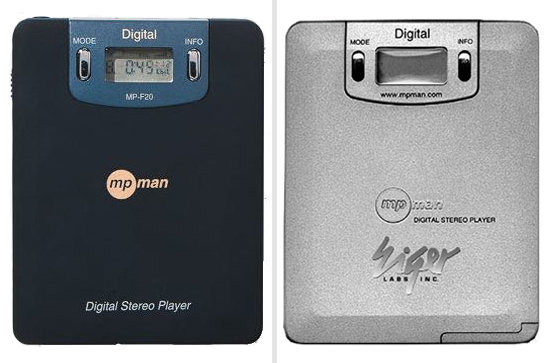 The MPMan came in two versions: the MPMan F10 ($299), which held 32 megabytes, or 35 minutes of music; and the MPMan F20 ($459), which held 64 megabytes, or 90 minutes of music. The player was palm-sized and featured a small LED screen on the front, with the headphone jack and control buttons on top of the device.
Read more about the MPMan after the break.