If you're looking for some new wicking gear, then you've got to check out the Balance Seamless Collection made by Ibex. Made from sustainable merino wool and a hint of Spandex, these base layers are soft, stretchy, and flattering. With cooler temperatures heading our way, it is time to think about layering for outdoor exercise.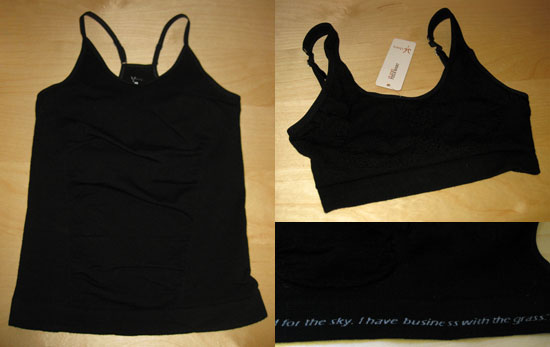 Pictured on the left is the Balance Sports Top ($59). It has a built-in shelf bra that's great for A through C cup sizes, but only for medium- to low-impact sports. So I wore the Balance Support Bra ($69) underneath for a nice long run. Wearing a bra and top made of wicking material is incredibly comfortable because they pull sweat off your skin and let it breathe; I felt dry and fresh throughout my entire workout. I also love the racerback straps that stayed put on my shoulders. The fabric is seamless, so there weren't any irritating ridges rubbing on my skin. They both fit snugly and contour to your body, keeping everything tight and making you feel supported and strong.
Just when I thought I couldn't be more in love with this bra and top, I looked on the inside and noticed that these words were knitted in the material, "I am sick of four walls and a ceiling. I have a need for the sky. I have business with the grass." Talk about inspiration.
To hear more about the rest of the collection read more