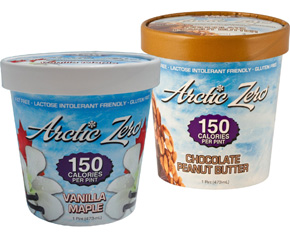 If your fave indulgence is ice cream, I've got good news for you. There's a new brand of "ice cream" that won't have to wait for that disastrous breakup to justify you seeing the bottom of the carton. An ice cream critic myself, I wasn't sure I would be sold, but a taste test has made a believer out of me. The new label,
Arctic Zero
, brags less than 150 calories per pint (yes, per pint, not serving!), and it's actually quite delicious.
When my girlfriend gushed to me about trying it, I pelted her with questions: Does it have artificial sweeteners in it? Does it taste anything like ice cream? Is it full of ingredients you can't pronounce? When she shook her head steadily, I knew I had to try it. And try it, I did. Well, I actually devoured it. On her recommendation, I spooned out the Vanilla Maple and Chocolate Peanut Butter versions. Neither disappointed. While they aren't like the creamy and rich types that leave your lips feeling a bit buttery, they are delicious and light. You don't feel like you've just consumed the whole freezer when you finish the serving of Arctic Zero. And funny enough, I wasn't so inclined to eat the entire pint like I might with a carton of Ben & Jerry's. Somehow, my taste buds were satisfied with just a few spoonfuls of the wondrous dessert.
Want to see more about the nutritional information and other benefits?