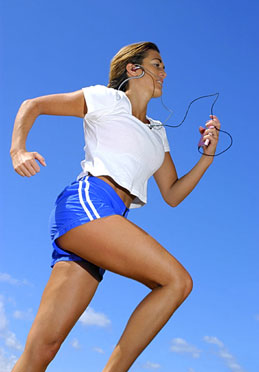 When it comes to running and your body, there's both good news and bad news. The good news is that
running doesn't cause arthritis in the knees
, and the bad news is your
running shoes could be the source of many injuries
. Let's begin on the brighter side.
Ongoing research, tracking runners and non-runners over a couple of decades, has found that runners do not suffer arthritis in their knees at a higher rate than their more sedentary counterparts. The even better news is that it looks like high-impact activities like running may actually help the cartilage remain healthy. Here's how researcher James Fries and Time explain the phenomenon:
Because cartilage — the soft connective tissue that surrounds the bones in joints — does not have arteries that deliver blood, it relies on the pumping action generated by movement to get its regular dose of oxygen and nutrients. "When you bear weight, [the joint] squishes out fluid, and when you release weight, it sucks in fluid," says Fries, explaining why a daily run or any other workout is useful for maintaining healthy cartilage.
I like the image of the cartilage lining my knees joints working like a sponge. On the heels of this good news comes the research about running shoes. Learn more when you continue reading.