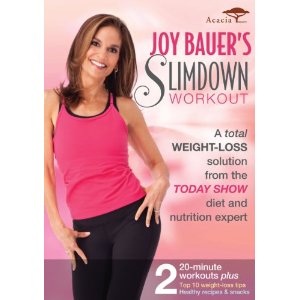 Ready to slim down but not willing to kill yourself to make it happen? It might be time to check out
Joy Bauer's Slimdown Workout
($13). As much as I'd love to head to the gym for an hour or two every day, it's not always an option for a mother of two.
Joy Bauer
, a mother herself, knows what it's like to only have a few moments to yourself to tune up the body.
In her new fitness video, Joy Bauer, nutritional expert of NBC's Today Show and former gymnast, shows how easy it is to stay trim with two simple 20-minute cardio workouts. But it's not just her; she's teamed up with professional trainer Lisa Wheeler. The tall, svelte blonde essentially leads Joy in the routines. I'm not quite sure why she didn't make the cover since she does much of the directing, but it's a good thing she's there as she's much more than an inspiring figure. Lisa helps show the modified versions of exercises and points out Joy's perfect form, which makes you check your own along the way. To keep the viewer engaged, Joy sprinkles in her tidbits of wisdom and pointers. She also makes you feel normal when she says, "Don't feel bad if you can't do this, guys!" as she wobbles herself.
To see what I liked about the exercise and to see a teaser video, just read more