The freshman 15 is notorious among inbound college students, but after graduation, a similar predicament plagues many young people. Once you start your first full-time desk job, it's surprisingly (and frighteningly!) easy to pack on pounds. It wasn't until I tried to zip up my favorite LBD for a friend's holiday party that I realized how much weight I had unknowingly put on my first year out of school.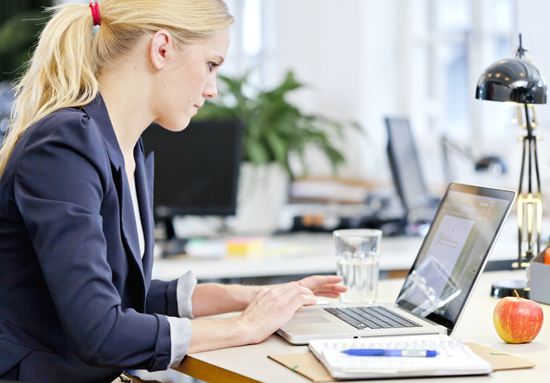 The good news is this problem is far from inevitable. Starting these healthy habits as a preventative measure will ensure your success. As an added bonus, you'll also be happier and more proactive in your work environment.
Pack your lunch: It's nice to enjoy an occasional lunch out with new coworkers, but it should not be an everyday occurrence. Going out too often is an easy way to pack on pounds and wipe out your funds. If you're worried about the effort and cook time it takes, try one of these healthy leftover recipes that are even better the next day. You can enjoy one of these recipes for dinner, and quickly pack up the leftovers. You'll be forced to practice portion control and start taking stock of what you're eating — otherwise you won't have lunch for the next day!
Pencil in workouts: Just like an important meeting with your boss, it's essential that you pencil in workouts to your schedule. When you're starting a new job, finding time to exercise might seem impossible, but boosting your endorphins and energizing your body through movement is some of the best defense against office weight gain and fatigue. Don't even let the idea of skipping your run or class be an option! Make sure to take necessary precautions to stick to your workouts.
Drink more water: Water is a magical elixir. It energizes your body, keeps your immune system working in your favor, and banishes pesky bloat. Fill up a bottle on your desk multiple times a day, and do whatever is necessary to make sure you keep on drinking. Not only will it keep you feel fresh, it can prevent unnecessary snacking. Many people confuse the sensations of thirst for hunger, especially when their minds are busy working.
Keep reading for two more helpful tips.