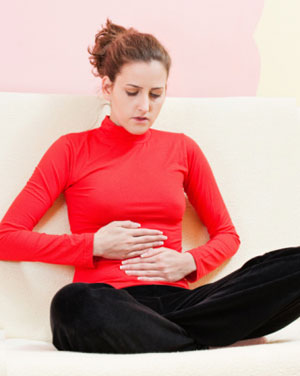 The gift of a bloated belly isn't only reserved for women during that time of the month. Sometimes it's the foods we eat that can cause that full, gassy feeling. Here's a list of foods that may be contributing to your balloon-like belly, so you may want to think about limiting or avoiding them.
Dairy products: Lactose intolerance can range from mild to severe, but either way, gas is usually a symptom. Try limiting the amount of milk, cheese, yogurt, and ice cream you eat and see if that helps. If it does, you don't have to ditch dairy altogether. Drink lactose-free milk, or take Lactaid pills to help your body digest milk products.
Apples and pears: These fruits contain about four grams of fiber per serving, so they're an excellent source of soluble fiber, but they can also wreak havoc on sensitive tummies. Don't avoid them entirely though. Eating half or a quarter of these fruits along with other foods will allow you to enjoy their flavor without paying the price.
Beans: This magical fruit contains oligosaccharide, a type of sugar which is not normally digestible by our bodies. When this sugar reaches your large intestine, the bacteria go to town eating it up, and the gas you produce is an unfortunate byproduct.
To see what other foods may be causing your bloated tummy read more