The daughter of an Olympian and wife of a Major League Baseball player, professional beach volleyball player Misty May-Treanor knows a thing or two about competing. She even tangoed her way across the stage in Dancing With the Stars a few seasons ago. After winning back-to-back Olympic gold with teammate Kerri Walsh in Athens and Bejing, the duo is hoping for top honors again this Summer in London. While on the Nike campus in Beaverton, OR, I caught up with Misty, where she let me in on a few pregame rituals and what the scene is really like at the Olympic Village.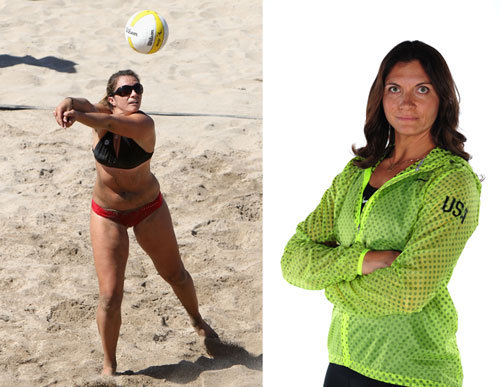 Misty, 34, is looking forward to competing and isn't letting her nerves get the best of her — the mark of a seasoned athlete. "I know when things are going to get me a little nervous, because nervous to me feels good." Asked about pregame rituals, Misty says she and Kerri make a habit of jumping over the sideline to enter the court together, which is followed by a complicated handshake. She'll also turn to music; to psych up before a match, she listens to anything from hip-hop to Euro. And, of course, the fans: Misty looks "at the stands and gets energy."
Find out what Misty says about the Olympic Village and her pregame meal after the break!