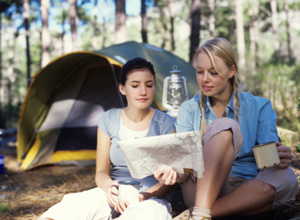 Once Memorial Day hits, it can be hard to get a campsite at many national parks. Trust me, I had a bit of a freak-out trying to get a site for my friends and me in Yosemite last weekend. Because we go there so much during the off-season when you can just show up and find space, it's easy to forget that this is not the case in the Summer. In the end I was successful and we had an awesome time, but it wasn't without a little work. Here are some tips on getting a site if you're planning on camping this season.
Book as early as possible. If you can plan ahead, book your campsite(s) as far in advance as possible. I know a few people that book for the Summer four months in advance — this is especially true of any long holiday weekend. The best resource I've found for national park and campsite reservation information is the National Park Service website. Besides making it really easy to book a site, the NPS site gives a great overview of all the national parks.
If you can't get a reservation, keep trying. When I found out that the 400 Yosemite tent campsites that allowed reservations were fully booked, I was stressed but I didn't give up. I kept going onto the reservation system (once every few hours) to double-check in hopes that someone would cancel. In the two days leading up to the weekend a handful of camping sites were released on the site due to cancellations.
See more tips on booking a site when you read more