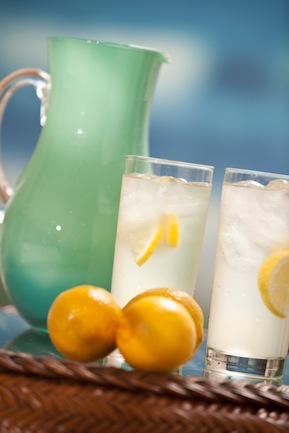 Now that we're in the trust tree, let me be completely honest with you about something — soda is downright
dangerous to drink
. Aside from the health risks including bone loss, hypertension, and dental decay, soda drinks like Coke are full of sugar, caramel coloring, high-fructose corn syrup and often leave you thirstier — not exactly the crème de la crème of beverages.
Contrary to popular belief, not all carbonated drinks are bad for you — sparking water is sugar free and can keep calcium locked in your bones (no studies have backed up the preconceived notion that sparkling water actually leaches calcium out of your bones).
For those of you that like that thirst-quenching appeal that carbonated beverages provide, you may be able to slowly wean yourself off soda once-and-for-all with one of these delicious and easy carbonated drink alternatives.
Fizzy Lemonade: Squeeze about three to four large lemons in a large pitcher. Pour in six cups of soda water and stir until all of the lemon is mixed in the water. Add four to five tablespoons of agave nectar for sweetness. Refrigerate for about an hour and then add in 2-3 cups of ice cubes. Garnish with some lemon slices.
Here are some more DIY carbonated drink options.