Geneva Alexander started with goal: to lose 50 pounds in time for her best friend's wedding. A year and a half later, the 27-year-old night-shift nurse has lost over double her original goal. Read on to find out how Geneva balances life and odd work hours and still managed to lose the weight and keep it off.
Geneva: Before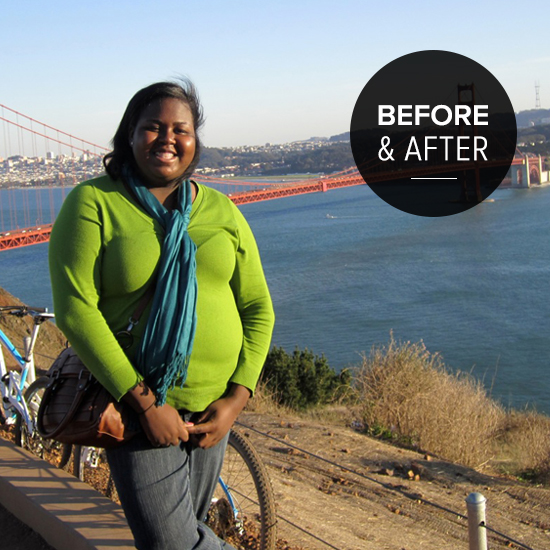 POPSUGAR Fitness: What made you decide to start?
Geneva: My weight-loss journey began when my best friend asked me to be her maid of honor. I didn't want to stand up in front of a room full of people and make a speech as the fat friend. Her wedding provided a tangible deadline to lose a significant amount of weight. My goal was to drop 50 pounds before her wedding.
PS: What is your favorite way to work out?
GA: I love HIIT workouts for cardio. I like how the change of pace keeps cardio interesting and not just a boring jog on the treadmill. I also love weight lifting. I work with a personal trainer twice a week and work on powerlifting moves like deadlifts, back squats, and bench press. I just hit a personal record on my deadlift of 300 pounds. I love feeling feminine and strong.
Geneva: Before
PS: What's your weekly exercise schedule?
GA: I typically work out six times per week. I am lucky enough to belong to a small family-owned gym that runs metabolic classes that are in a HIIT style. I take those group exercise classes typically four times per week. My other two workout days, I work with my personal trainer doing strength and weight lifting exercises. We typically do a lower-body day early in the week, and our second workout will be upper body.
PS: How do you keep workouts exciting?
GA: I like to keep things changing monthly. I also will pick a new fitness goal every few months, whether it is to increase the amount of weight I lift, or decreasing my mile time. I also promised myself to complete one big fitness challenge every year. This year, I trained for and ran my first half marathon.