We are pumped to share one of our fave stories from Self here on FitSugar!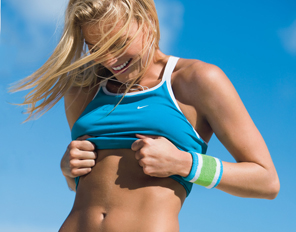 We're not going to lie: transforming your body from head to toe isn't always the fastest process, because it takes time to burn fat and build muscle. However, there is an exception: With the right diet and workout, you can see a difference in your belly (and maybe even reveal an ab or two!) in just a couple of days. The secret? Beat bloat.
Generally, the best way to avoid bloat is to stay away from soda, alcohol and greasy, salty, fatty meals, which slow the stomach and the intestines from emptying, according to Timothy S. Harlan (a.k.a. Dr. Gourmet), M.D., medical director of Tulane University's School of Medicine.
Here are 5 of our favorite bloat-busting foods, and a few moves to add to your belly-shrinking workout routine.
Papaya: There's some research that says the enzyme in papaya may aid digestion. Try mixing diced papaya into plain organic yogurt for breakfast.
Oatmeal: According to Harlan, in a recent meta-analysis of a number of studies related to digestion, researchers found that oat bran can be particularly beneficial. Harlan recommends having oatmeal for breakfast. Warning: Avoid McDonald's new oatmeal, which has more sugar than a Snickers bar, according to this recent New York Times article. Yikes!