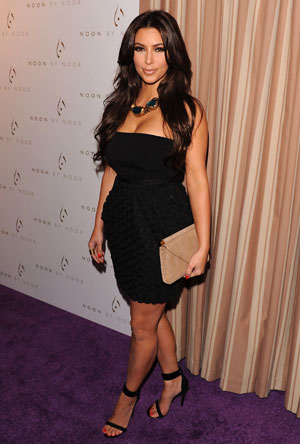 Like most brides-to-be,
Kim Kardashian
focused on toning her arms and back for her much-anticipated
wedding
. To shape her arms and upper back,
Us Weekly
reported that Kim is doing free-arm exercises, "where I'm changing the movements all the time." Instead of doing repetitive movements in a straight line as in a triceps kickback or a shoulder press, you continuously vary the angle and direction of your movements, making them more creative. For example, instead of doing a basic bicep curl where you draw the hand weight or resistance band toward your shoulder, you pivot from your elbow and slowly move your hand in different ways (like you're drawing in the air), which not only targets the biceps but also tones the forearms, triceps, and shoulders.
This concept reminds of how
Shiva Rea approaches core work
. Rather than doing basic crunches, she has you explore lifting and swaying your torso and legs in creative, dance-like ways. It may seem a little weird to have such free and seemingly unintentional movements, but they're actually really effective. It keeps your muscles guessing, and the varying movements end up targeting every part of your muscle. This technique can be used with just about any dumbbell or resistance band exercise. I recommend using a lighter weight or tension as it doesn't take much to feel this type of movement working, and you don't want to risk injuring yourself.