Venus Williams easily defeated her first opponent of this year's US Open. Having been sidelined over the last couple of months, many fans were checking out both her form and her face — for indications of pain. The New York Times reported that she winced at least once but only needed an hour and 14 minutes to defeat Roberta Vinci of Italy, 6-4, 6-1.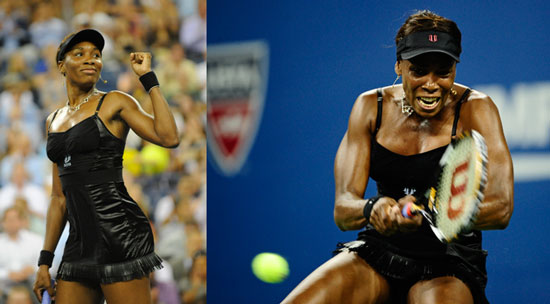 Last week the third seeded player of the grand slam event took time out of her busy schedule to chat with me about her love of the game.
FitSugar: Do you do different kinds of prep when gearing up for different surfaces: grass vs. clay/hard court?
Venus Williams: On grass I am looking for shorter points. On clay you have to get into the mentality of playing longer points, so you really have to be fit and have your legs strong. Really be ready to go the distance cardiovascularly. You have to push yourself even more for a clay court match.
FS: Do you prefer one surface more than the other?
VS: I love playing on all of them. I am an aggressive player and I do enjoy a quicker, more aggressive point. To be honest, I just like to play tennis.
To learn how Venus's relationship to the game has changed over the past 15 years, just read more