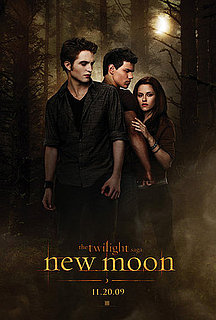 Have you heard about the Twilight diet? At first I thought it was a term Twilighters — aka die-hard Twilight fans — used to describe their voracious appetites for all things Edward and Bella — books, movies, pictures, life-size Robert Pattinson cutouts — but it's actually related to food. Twilight vernacular is everywhere, even in the world of health and fitness.
I've written a little about Taylor Lautner's quest to bulk up for New Moon. In order to be a believable Jacob the werewolf, the young star was in the gym every day for two hours to put on the needed 30 pounds of muscle. "I had to eat every two hours," says Lautner. "At one point, my trainer said, 'Put anything in your mouth. Go to McDonalds get the biggest shake possible. I just need to get calories in you.' Because my body fat at the time was only, like, 7.5 percent"
Lautner's fitness routine is what the urban dictionary calls the Twilight diet:
Person A: Yo man, I wanna get ripped.
Person B: Yeah man, follow the Twilight diet!
I wonder what Michael Phelps and Venus Williams would think if they knew they were on the Twilight diet while training, and didn't even know it?
To hear about the "other" Twilight diet read more