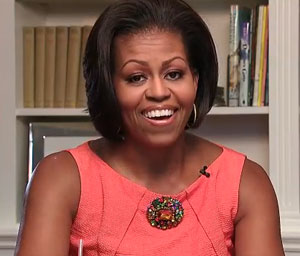 Sure the first family has a weakness for french fries like the rest of us, but when it comes to food the Obamas emphasize moderation. While discussing her
Let's Move!
campaign to end childhood obesity, the first lady admitted in
a web chat with AOL Health
that her family wasn't always on a healthy path. Before Barack became president, her busy life — working long hours and taking care of her family — made trips to the drive-thru and ordering pizza commonplace. She realized how those unhealthy choices were affecting her family, particularly her daughters. Michelle shared that now,
"The message in our household is balance. It's funny that the president has a reputation for loving fast food, but I probably love it more than he does. He's very disciplined. He doesn't eat sweets; he loves vegetables. That's why we don't shy away from fast food. We want our kids to learn balance."
Balance mean it's OK to enjoy a piece of cake on special occasions, but you won't find processed snack foods and sugary beverages in the Obama kitchen. The first family also enjoys at least one home-cooked meal a day together at the table and encourage their girls to eat veggies, drink plenty of water, and get outside to move. Michelle is also careful about how she talks to her daughters about food. Being 8 and 12 years old, they're coming to the age where many girls develop eating disorders, so health rather than weight and body size is emphasized. Michelle says,
"You can really make some significant improvement with small changes. And I want people to think in those terms, and not whole-scale changes that are going to turn people's lives upside down, because then, you can't sustain it."
Tell me, what small steps do you do daily or weekly to take care of yourself?
Source: Whitehouse.gov