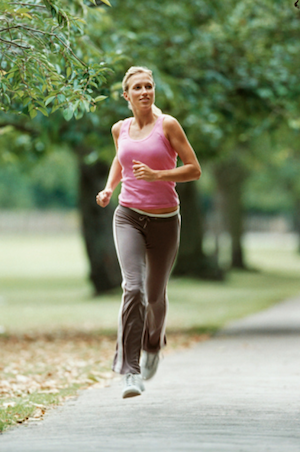 When you first start running, it's important to think of yourself as a tortoise and not a hare, slowly easing yourself into running two to three miles a day, three to five days a week for about five weeks at a comfortable pace. This way, you can cover a lot of ground, yet still build endurance while minimizing injuries.
Once you're in a comfortable pace zone, you'll notice that you're getting in better shape and building a stronger aerobic system. But, to avoid hitting a plateau, it's a good idea to move out of your now-comfortable cruising pace and push yourself to run faster by doing tempo runs. A tempo run challenges you to run outside of your normal pace for a steady period of time (rather than in short bursts like interval training). To start training with tempo runs, Shape suggests 10-minute tempo runs for beginners, 20 minutes for intermediate runners, and 40 minutes for advanced athletes. What tempo runs do is they get you running faster, but at a speed that you can handle for an extended period of time.
Keep reading for more tips about getting past your normal running threshold.