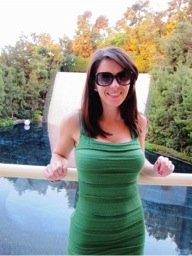 Hi, my name is Tina Haupert. I'm the blogger behind Carrots 'N' Cake and the author of Carrots 'N' Cake: Healthy Living One Carrot and Cupcake at a Time. I'm 32 years old and live on the South Shore of Massachusetts with my husband, Mal, and my adorable pug, Murphy. I love all things related to fitness and my favorite way to stay in shape is CrossFit. I just started taking classes this past December, but I am already hooked! I'm a Fitfluential Ambassador and my work has been featured in a number of national publications, including Health, Shape, Fitness, Boston Globe, People StyleWatch, Women's Day, Prevention, and Glamour. I'm also a weekly contributor to Health magazine's News & Views, and you can find me on Twitter and Pinterest.




Never heard of Julie Foucher? She's the women's runner-up of the 2012 CrossFit Games, which means she's the second "Fittest Woman on Earth." I actually had the chance to meet Julie at the 2012 CrossFit Games afterparty, and she was everything I expected and more. She was kind, humble, and sweet, and definitely a role model for female athletes everywhere. Julie works hard in every aspect of her life, and seeing this motivates me to become a better version of myself. Here are three reasons why Julie Foucher inspires me.

Keep reading for more tips on CrossFit and using Pinspiration for fitness.