The longer days of Summer means more daylight hours to fit in long training runs. Upping mileage brings increased stamina, so you can "bring it" at your races; but it can also increase your risk of injury. Overuse injuries are the bane of any runner's well-laid training plans — this is where some prehab comes into play. Strengthening areas prone to injury will hopefully help you bypass nasty and nagging injuries that often follow you as you log mile after mile. Here are four common running issues and how you can hopefully prevent them.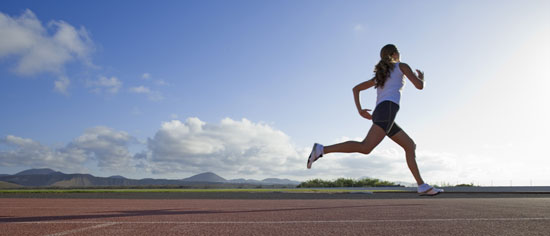 Shin Splints
Symptoms: Pain in the lower leg starting below the knee. It can be either on the outside of the shin (called anterior shin splint) or the inside of the bone (referred to as medial shin splint).
Causes: Shin splints are small tears in the area where the lower leg muscle attaches to the tibia, aka the shin bone. The tears are caused from overuse, especially after periods of inactivity. In runners, shin splints often occur because the calf muscle becomes stronger than the tibialis anterior, the muscle on the outside of the shin.
Prevention: Stretch your calves regularly, even on days you don't run. And when running, think about lifting your heels toward your pelvis to activate the hamstring rather than propelling yourself forward by pushing off with your feet, which activates the calves. As for strength training, a series of toe and heel walks help to balance the muscles of the lower leg.
Unfortunately, there are more injuries, so keep on reading.