Resistance bands are a great tool for strength-training newbies. They help target specific muscle groups, improve coordination, and cost less than $15! If you're not sure where to start with a resistance band, each of these exercises will help you get acquainted with the new toning tool.
Upright Rows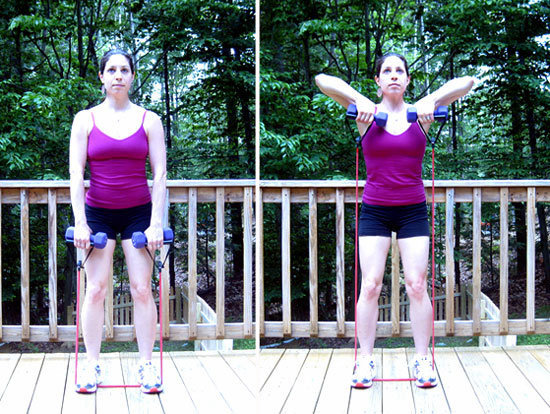 If you've never worked with a resistance band before, then basic upright rows are a perfect place to get started. You can focus on working out your shoulders and get a feel for the band's pull.
Stand on the middle of a resistance band with your feet hip-distance apart; grip the handles of the resistance band. Your closed palms will be facing your body. Make the move even more challenging by holding a dumbbell in each hand.
Stand with your shoulders over your pelvis and your knees slightly bent.
Keeping the handles close to your body, raise them to your shoulders, bending your elbows out to the sides.
Then with control, slowly lower them to the starting position.
This counts as one rep. Complete three sets of 10 to 12 reps.
Booty Kicks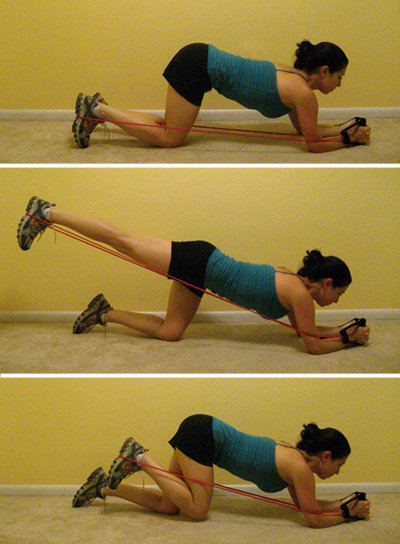 Everyone loves a good tush-toning move! Booty kicks with a resistance band are a great way to work your glutes and get creative with the band.
Hold onto each end of your resistance band, and place the center of the band around the sole of the right foot. Then place your elbows and knees on the ground so your back is straight.
Hold the band firmly, draw your belly in, and extend your right leg straight out behind you. Then draw your knee forward, but don't let it touch the ground.
Repeat a total of 15 to 20 times; repeat with the left leg.
Keep reading for two more moves with the resistance band that work two muscle groups each!