There are tons of perks to working from home: the short commute from bedroom to home office, limited exposure to germs from coughing co-workers, and taking calls in your PJs. These perks are great, but when it comes to your health, working from home could be your downfall. You may be tempted to snack all day long since your kitchen is steps away. It's also tough to motivate yourself to leave your comfy house to exercise. Here are some suggestions for working from home without gaining weight.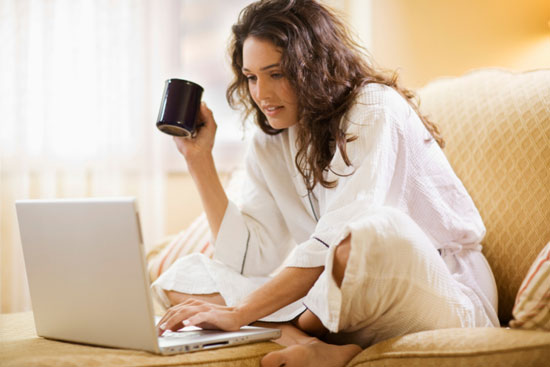 Wake up and put on your sports bra and sneaks. Wearing exercise gear (instead of your cozy jammies) will motivate you to work out.
Schedule a time to exercise and stick to it. Write it down in your planner and think of your workout as an appointment you can't miss. If it's tough to break away once your work day begins, exercise before work. Better yet, make a fitness date with a neighbor so you won't be tempted to sleep in.
Take regular breaks from work to do some strength training moves and stretches. Keep a set of weights and a yoga mat in your home office. Since no one is around, you won't feel silly doing some bicep curls or Sun Salutations.
If you have more than one bathroom, use the one that's the farthest away, preferably one that's on a different floor so you have to climb stairs. A few extra steps throughout the day really start to add up.