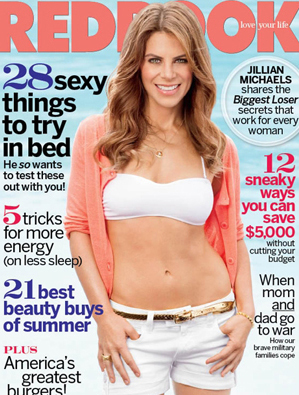 With the success of The Biggest Loser and her new show — Losing It With Jillian — Jillian Michaels is turning into a household name. But as she shares in the latest issue of Redbook, life wasn't always so sweet. As a teen, Jillian weighed in at 175 pounds and struggled with problems at home. It wasn't until she left home at 17 that her path to a healthy and successful life began. Check out the highlights here:
On finding inspiration to get healthy: "You have to establish the why: 'Why do you want to change your life? What's inspiring and motivating you? A long life? To wear your skinny jeans to your 10-year high school reunion?' That why is gonna carry you through."
On her weight struggles as a teen: 
"Oh, my God, it was pure hell. I spent all of eighth grade in my classroom because God forbid I ever left. I was terrorized."
Read more excerpts from the interview and see a picture of a teenage Jillian when you read more