Do you have a minipanic attack when your yoga instructor says it's time to work on headstands? Whether you've tried inversions a hundred times and can't stay balanced for more than half a second, or are too intimidated to even try, here are five reasons headstands aren't happening for you and how to get started hanging upside down.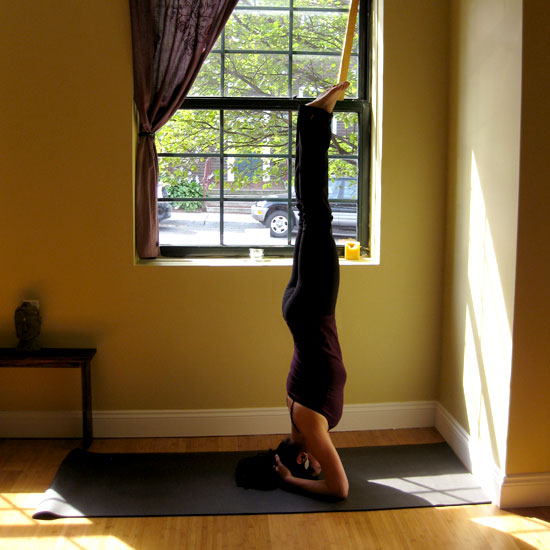 You're scared of falling: This is a very real fear and a valid reason for not even attempting headstand, but how will you know whether or not you can balance upside down if you never give it a chance? There are many ways you can do a headstand and avoid the risk of falling. Try one of these: do headstand in front of a wall, have someone spot you, slowly lift into headstand instead of kicking up, or start with a Bound Headstand Prep where your feet never leave the ground (it's still a headstand if you're balancing on your head!).
You don't have a solid base: Whether you're doing Bound Headstand (shown in the photo above) or Tripod Headstand with your palms on the ground, your base needs to be strong and stable in order to support the weight of the rest of your body. In Bound Headstand, make sure the heels of your palms are pressed against the back of your head, and your elbows are a few inches away from your ears. In Tripod Headstand, keep your elbows at 90-degree angles. A strong base is the first step in building up to headstand.
Keep on reading to find out what else is preventing you from doing a headstand.