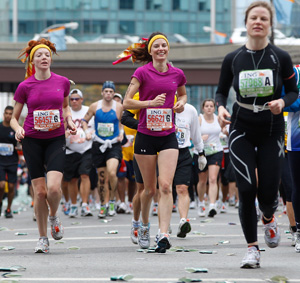 While I'm generally a recreational runner, I enjoy organized races a few times a year. They push me to train harder and provide a great sense of accomplishment. Plus, especially during longer distances, it gives me a chance to check out a new city or neighborhood. I was pumped to run the Oakland Half Marathon (coming up this weekend), but in the middle of filling out the registration form, I realized it would cost $90 just to run.
I understand race fees go to support organizations and are put toward associated race costs — road closures, security, emergency personnel, etc. But $90 seems quite steep. The New York City marathon, regarded as one of the world's most expensive, is around $140 to enter. I've heard of similar fees being charged for commercial races, the Rock 'n' Roll series in particular. I'd make an exception for certain opportunities (running NYC, for example), but otherwise I just don't have that kind of money to spend on a race. The fees have caused me to adopt a new policy when it comes to registration: if it's a pricey run but I think there's a shot I'll beat my personal record, I'll pay it. Unfortunately for this weekend's race, that's not the case and I've opted out. I think my personal cap is around $50 for a half-marathon, which is the distance I race most frequently.
What about you? Do you have a "fee cap" when it comes to paying to enter a race? I'd much rather run an organized race than 13 miles on my own, but when the price of running a race costs as much as my running shoes, I draw the line. Can I register and opt out of receiving and paying for the "commemorative t-shirt?" Now we're talking.