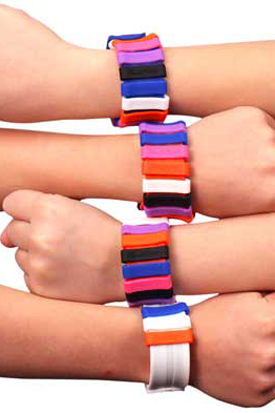 Don't say we didn't warn you. Just as
Silly Bandz
became the jelly bracelets of 2010,
SLAPlets
($6) are set to become the slap bracelets of 2011. Yes, this Summer's sure-to-be biggest wrist fad is taking yet another page out of mama's childhood jewelry box, only this time they're made of silicone and don't hurt quite as much!
I distinctly remember my elementary school teachers banning the use of the metal bracelets that start out straight and then curl when they are "slapped" on a wrist, as we spent more time playing with them than watching the blackboard. Today, the 100 percent hypoallergenic silicone bands are quieter and are available in six colors. They come with three SLAPlinxs, or rubber bands, that can be traded, mixed, and added on to create truly unique wrist wear. You know what they say – everything old is new again, just with an added twist!