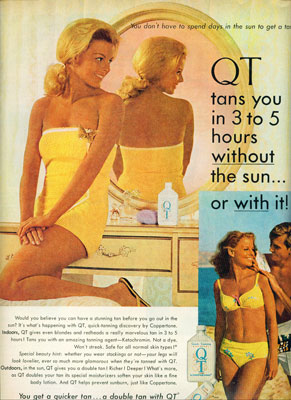 Back in the '60s,
Coppertone
launched QT, the first sunless tanning lotion ever. And to this day, over 40 years later, the main ingredients used in most self-tanners to bronze the skin are still
dihydroxyacetone
(DHA) and erythrulose. While DHA has been refined over the years to streak and stink less, self-tanners have
essentially changed very little
. What
has
changed: formulas are scented, more moisturizing, and available in different textures.
Most self-tans last for about a week, so if you're simply looking for a run-of-the-mill temporary tan, inexpensive drugstore products get the job done. If you seek a more luxurious experience, there's no shortage of scented treats out there. And to make that tan last a little longer, follow these three easy steps: exfoliate before application, put on a little lotion before you begin, and apply a moisturizing self-tanner.