If you've ever wondered what kind of hard work goes into being a tribute for The Hunger Games, Shape has the answers! They spoke to trainer Patrick Murphy about working with actress Jena Malone, who plays District 7 tribute Johanna Mason in the upcoming movie, The Hunger Games: Catching Fire.
From sweet starlet to ax-slinging assassin, Jena Malone transformed herself into the savage District 7 tribute Johanna Mason for the second installment of The Hunger Games: Catching Fire — and she's got a killer body to show for it.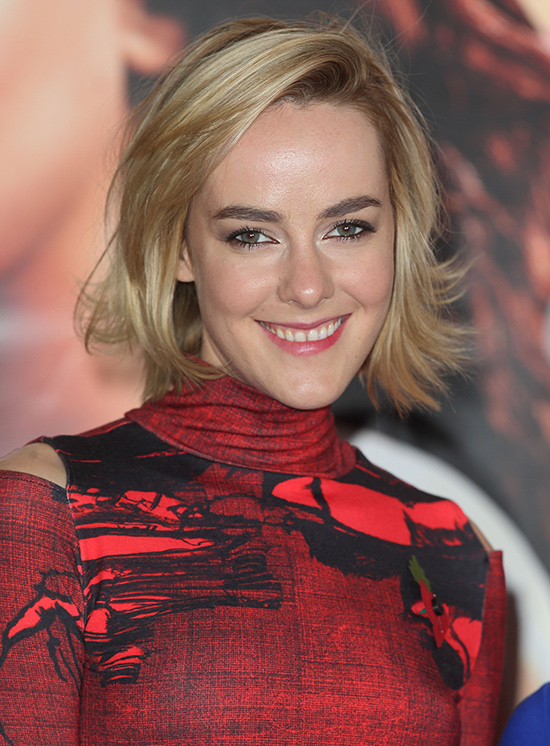 "Sometimes you just need to get sweaty in a gym and feel pain in your body like you've never felt before," the 28-year-old actress told Vogue about getting in shape for her insanely physical role. In addition to regular martial arts training taught by a fleet of professional stuntmen, Malone enlisted the help of Hollywood body sculptor Patrick Murphy for intense strength training and agility sessions. Here, Murphy shares the strategies that helped Malone sculpt her fierce fighter physique.
Shape: Tell us about your training philosophy.
Patrick Murphy: My personal goal for my clients is that they feel fantastic and are able to move pain-free in their later years. I stay away from exercises that can hurt posture or eventually lead to injuries, such as bench dips and upright rows. Instead, I focus on proper form. So if you're doing a lunge or a step-up, maintaining optimal position and posture is most important to me.
Shape: Malone has said she trained with you five days a week for two months before she even started filming. What was your plan of action to get Jena Hunger Games-ready?
PM: Truth be told, I had a great canvas to start with. Our game plan was to incorporate strength and power moves into balance and agility training, with four to five workouts a week. We targeted different muscle groups on different days with varied split routines each week, determined by how Jena was feeling. We might have focused on pushing movements one day and pulling movements the next, always doing core work, too. On days we weren't doing resistance training, Jena would do high-intensity sprint intervals, so we never hit a plateau.
Shape: And how did you see her body transform?
PM: Jena went from thin to lean and mean and, by the end of two months, seriously hard and ripped. She had a history of training hard — her body changed very quickly.
RELATED: Kelly Rowland's Arms and Abs Workout
Shape: In The Hunger Games: Catching Fire, Johanna Mason is known for being talented with an ax — how did you incorporate that into her workout?
PM: Her character would be in "do or die" situations, so her movements had to be super focused with high intensity. Exercising with resistance bands, cables, weighted bars, and dumbbells prepared her to strike with any weapon; her wrist and handgrip became superstrong. After many reps and much practice, she made difficult movements look easy!
See the rest of the interview after the break!