Vegan Overnight Oatmeal
A Reader Recipe: Almond Butter VOO
So what is VOO exactly? VOO stands for Vegan Overnight Oats. This recipe was submitted by FitSugar reader prepel in the Healthy Recipe group, and she combines cinnamon, apricot, and almond butter to make a sugar-free Summer breakfast.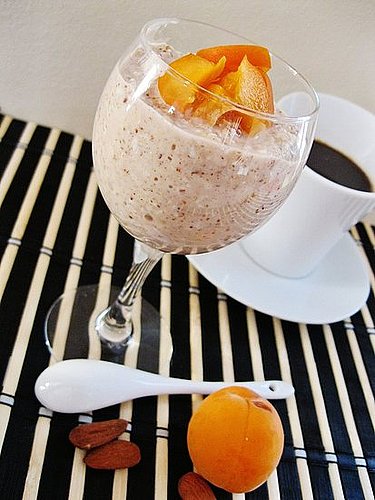 Creamy and delicious, this breakfast tastes just like dessert. The best part — you can whip it up in one minute, leave it refrigerated overnight, and tah-dah, breakfast is served in the morning. It can easily be made gluten-free by using certified gluten-free oats.
Keep reading to learn how to make Almond Butter VOO.
Ingredients:
1/3 cup rolled oats
1/2 c non-dairy milk
1 teaspoon raw almond butter
1 teaspoon ground flax
1/4 tsp cinnamon
Topping idea: chopped apricot
Directions:
Combine all ingredients for the VOO in a small plastic container and mix well with a spoon. Cover and let sit in fridge overnight, or for at least 4 hours prior to serving.
Top with a chopped apricot.
Check out more of prepel's recipes, and be sure to join the fun by sharing your own healthy recipes in our Healthy Recipe group in our Fit Community!