Whether you follow the "vegan before 6 p.m." routine [1], you're taking a Beyoncé-like vegan challenge [2], or you're animal-free through and through, it seems like more and more of us have tried a vegan diet. While going vegan may take a bit more thought and effort than an unrestricted diet, with a little preplanning — like checking ingredients in store-bought breads and stocking up on vegan pantry essentials — you can still enjoy delicious, exciting meals no matter what time of day. To start your workweek, we've found 30 tasty and creative vegan lunches that are perfect for brown bagging to work. Click through for the recipes!
Pea Soup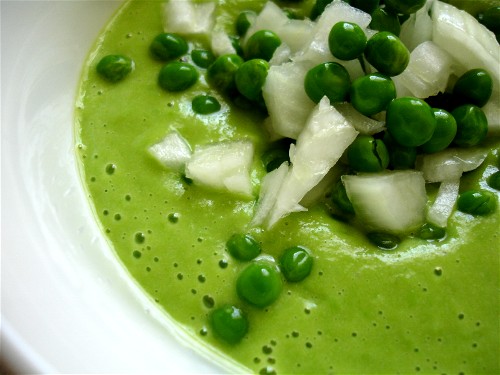 Make a hearty split pea soup sans the ham using this vegan split pea soup recipe [3], or go for a raw cold pea soup [4] that you can whip up in your blender. Either way, both are better options than bringing a sodium-laden can of soup to work!
Source: Flickr user rikkis_refuge [5]
Spicy Sweet Potato Salad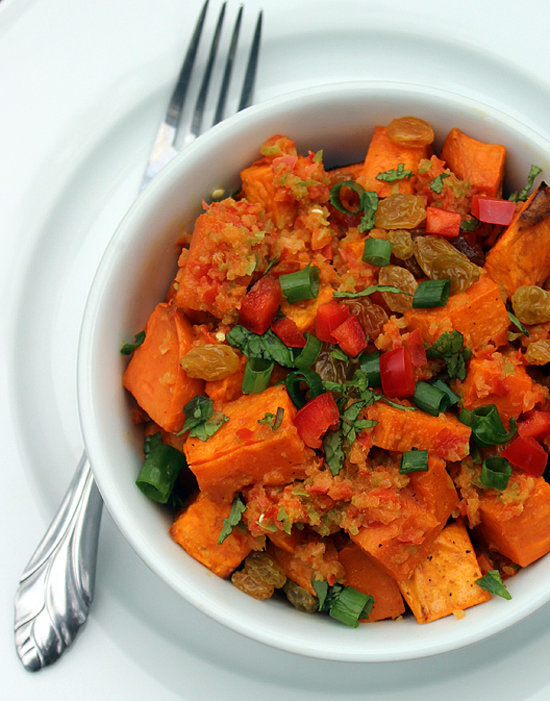 This spicy sweet potato salad [6] is meant to be a side, but it works well on its own as a hearty lunch. High-fiber sweet potatoes and a spicy red-pepper dressing (plus an extra jalepeño kick) mean this vegan recipe is anything but boring.
Photo: Lizzie Fuhr
Butternut Squash Lentil Soup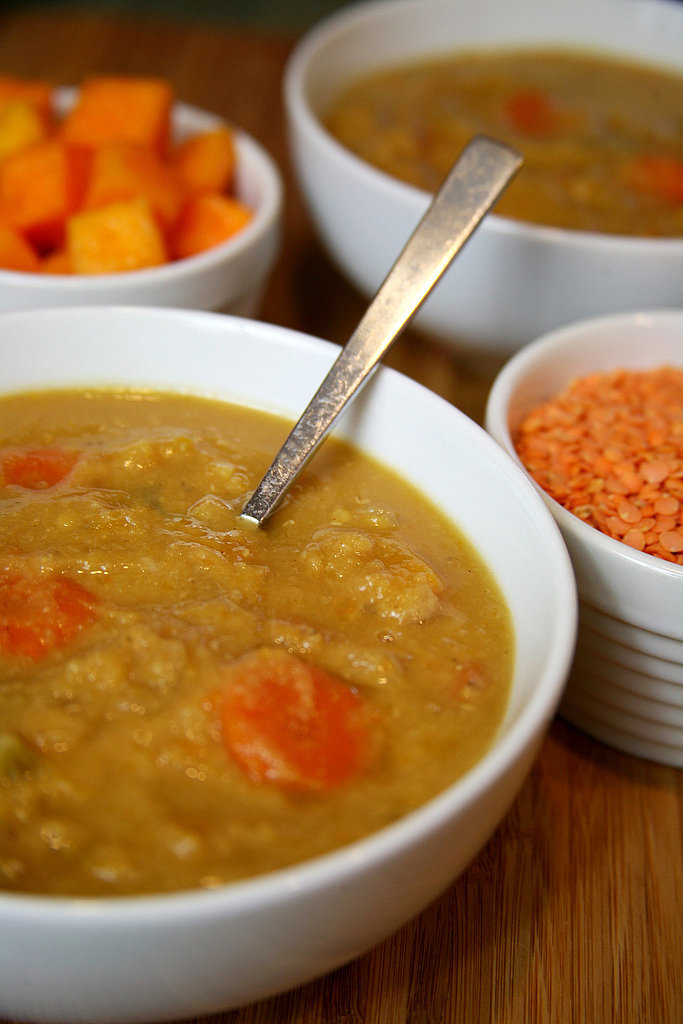 If you've got a slow cooker, making this vegan butternut squash lentil soup [7] will be a breeze. This recipe makes eight servings, so you can make enough for dinner, lunch, and then some.
Photo: Jenny Sugar
Avocado and "Goat Cheese" Sandwich
A filling lunch that's perfect for warmer weather: open-faced avocado and "goat cheese" sandwiches, topped with greens. The vegan cheese is made from pine nuts; get the recipe for vegan goat cheese here [8].
Source: Instagram user slowclubcookery [9]
Vegan Pasta Salad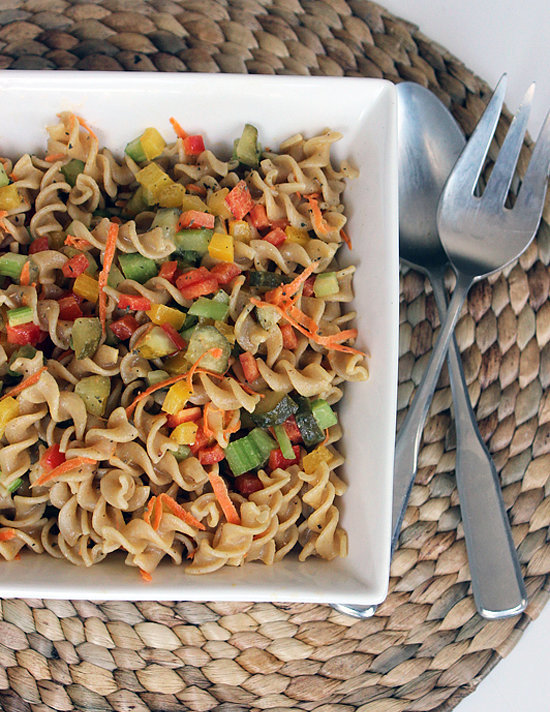 Even if a barbecue isn't in your near future, you'll want to whip up a batch of this veggie pasta salad [10]. It's lower in fat and higher in nutrients than regular pasta salad, which makes it a good and good-for-you lunch that you'll look forward to.
Photo: Lizzie Fuhr
Cold Soba Salad With Ginger Peanut Dressing
You'll want to make a big batch of this soba noodle salad with ginger peanut dressing [11] for dinner; the leftovers will make an even tastier lunch! Creamy, tangy, and with a kick, this will become one of your favorite vegan lunch options.
Photo: Lizzie Fuhr
Cumin-Spiced Lentil and Quinoa Stew
Give your regular quinoa salad routine a spicy makeover with this cumin-spiced lentil and quinoa stew [12]. A hearty bowl will quiet any hunger pangs for hours.
Photo: Jenny Sugar
Colorful Cabbage Salad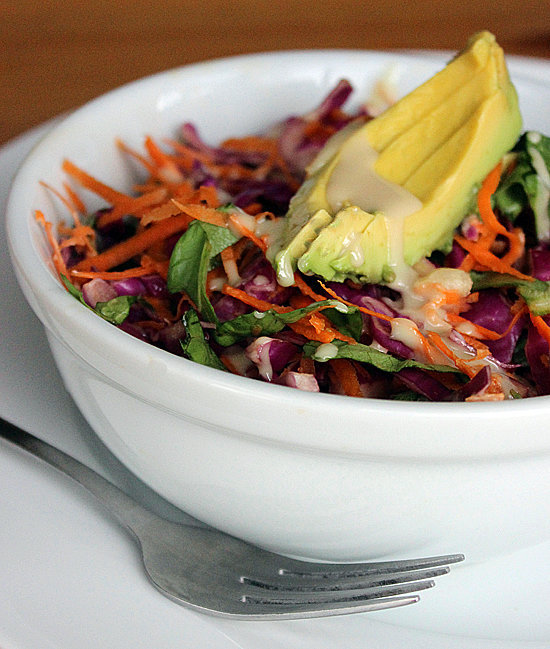 An avocado-topped colorful veggie salad will be something to look forward to when it's time for lunch. This detox cabbage and carrot salad [13] comes with a tangy tahini dressing that will satisfy taste buds.
Photo: Lizzie Fuhr
Cauliflower "Rice" Stir-Fry
Don't become victim to that late-afternoon, post-takeout slump. This paleo-friendly cauliflower "rice" stir-fry" recipe [14] satisfies your greasiest cravings with fresh produce atop "rice" made from cauliflower.
Photo: Lizzie Fuhr
Mediterranean Pita Pizzas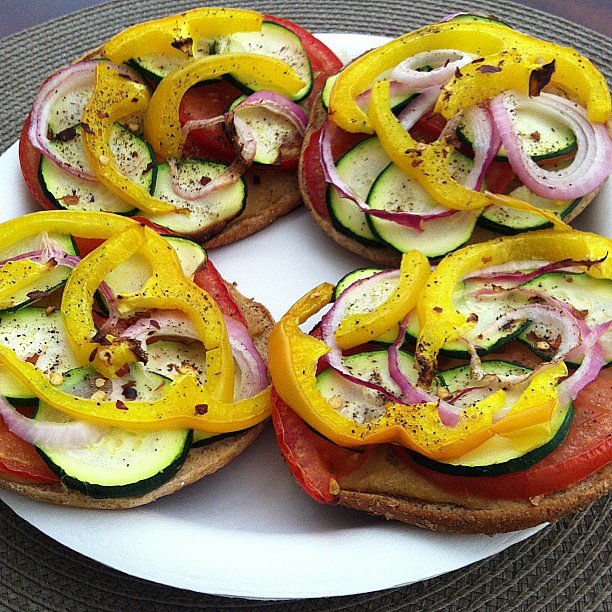 Easy to make, delicious to eat. Spread hummus on pita bread and top with slices of your favorite veggies, like bell pepper, red onion, zucchini, and tomato; then season to taste. Pop these in a toaster oven for a fun lunch in no time.
Source: Instagram user deannabonana [15]
Asparagus Quinoa Salad
There are a million ways to make a quinoa salad, but this asparagus chard quinoa salad recipe [16] shines with the use of fresh, detoxifying produce and a light vinaigrette. Filling, but not too heavy — perfect for your next office lunch.
Photo: Lauren Hendrickson
Spaghetti Squash Pad Thai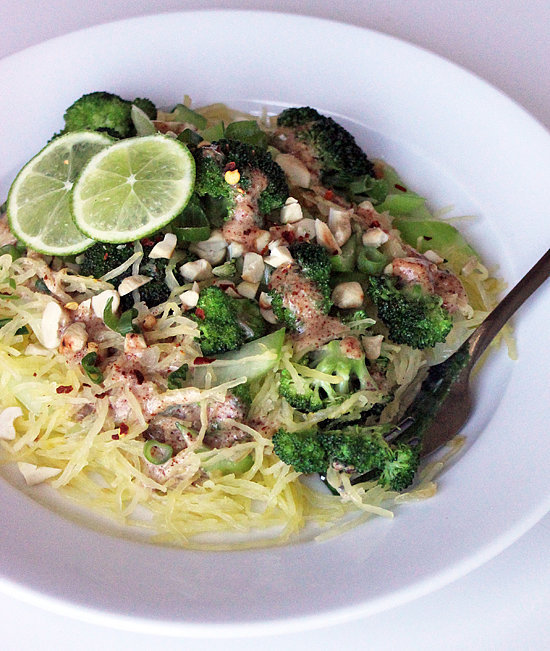 If you're going low carb and vegan, this spaghetti squash pad thai [17] is just for you. Since roasting a spaghetti squash takes a bit of time, have this tasty dish for dinner and make sure you make enough for dinner tomorrow.
Photo: Lizzie Fuhr
Vegan Chickpea Curry
Change up your midday meal with a light curry that you can make (and eat) the night before. This zucchini chickpea tomato curry recipe [18] will have you excited for leftovers for lunch.
Photo: Lizzie Fuhr
Sweet Potato Wrap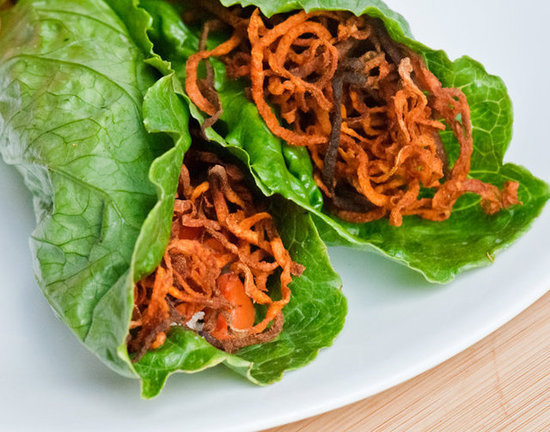 Both the sauerkraut dressing and the curly sweet potato fries in this curly sweet potato wrap [19] are easy to make, and once done, all you need is lettuce to roll them up! Pack a few of these snugly in a container and enjoy a fun take on a lettuce wrap at lunchtime.
Source: Pure2Raw [20]
Vegan Mac and Cheese
If you're craving a cheesy American classic (without the dairy, of course), try this vegan mac and cheese [21]. Nutritional yeast and Earth Balance butter make this vegan version a still-delicious take on meals from yesteryear.
Photo: Michele Foley
Avocado Pasta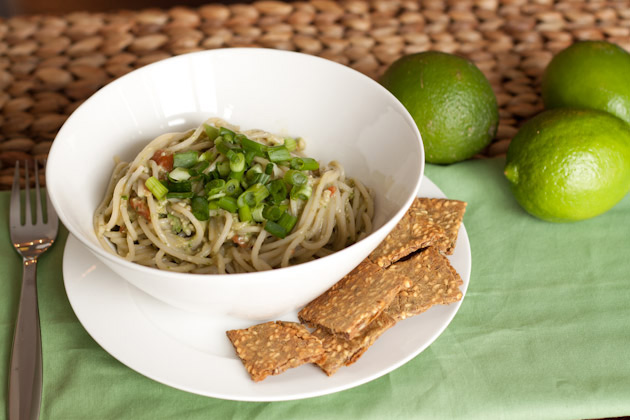 Whether it's last night's leftovers or a quick batch you throw together the night before, this creamy avocado pasta [22] will be the perfect vegan meal come midday.
Source: Healthful Pursuit [23]
Chickpea and Hijiki Salad Sandwich
Reminiscent of tuna salad, this vegan chickpea and hijiki salad sandwich [24] from Vegan With a Vengeance contains chickpeas mashed with carrots, apple cider vinegar, vegan mayo, and other tuna salad staples. If you can't find hijiki, try using another type of seaweed instead.
Source: Flickr user rusvaplauke [25]
Vegan Spring Rolls
Spring rolls are another veggie-filled meal that is super easy to make. Nutritious, fresh vegetables like carrots, cucumbers, and lettuce are the stars, so grab your rice paper and check out this recipe [26]!
Source: Flickr user veganfeast [27]
Vegan Banh Mi
The lemongrass, soy sauce, and garlic-marinated tofu in this Vietnamese sandwich [28] are so flavorful that you won't miss the meat.
Source: Flickr user
This vegan buckwheat salad recipe
[29] includes tempeh bacon and an Asian sesame dressing for even more flavor.
Source: POPSUGAR user amusebouche [30]
Edamame Paté California Rolls
Have some fun with your lunch with these edamame paté California rolls [31]. Once you get a hang of rolling, making sushi is a cinch, and a few of these rolls served alongside a salad will keep you full and full of energy.
Source: Healthful Pursuit [32]
Thai Curry Burrito
This recipe has it all — Thai green curry flavors, appetite-suppressing chickpeas, and a dollop of soy yogurt, all wrapped up in an easy-to-eat burrito package. Get the vegan Thai green curry chickpea burrito recipe here [33].
Source: POPSUGAR user girlA [34]
Egg(less) Salad
In one version [35], press and bake the tofu before crumbling into a mixture spiked with maple syrup, cumin, coriander, and soy sauce. Or try our more traditional "egg" salad recipe here [36]. Both would be delicious over a bed of greens or in a sandwich!
Source: Flickr user rooey [37]
Indian-Spiced Veggie Burgers
No boring veggie patties here! Make a batch of these Indian-spiced vegan and gluten-free curry quinoa burgers [38] for dinner and save a patty for the next day's lunch.
Source: Healthful Pursuit [39]
Garlic Toast With Mashed Avocado and Salsa Verde Spread
In this recipe [40], toasted bread rubbed with garlic gets topped with a creamy and subtly spicy mix of avocado (smashed with oil and salt) and ready-made salsa verde.
Source: Flickr user SweetOnVeg [41]
Kale and Brown Rice Noodle Bowl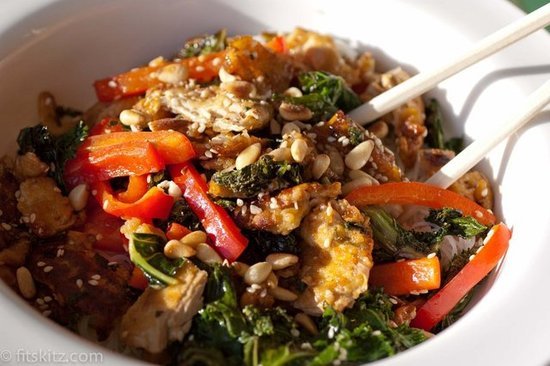 Leftover takeout is a hearty day-after lunch, but who needs all the fat, sugar, and calories twice in a row? Make an extra portion of this meatless chicken, kale, and red pepper noodle bowl [42] and look forward to your tasty midday meal.
Source: Fitskitz [43]
Vegan Caesar Salad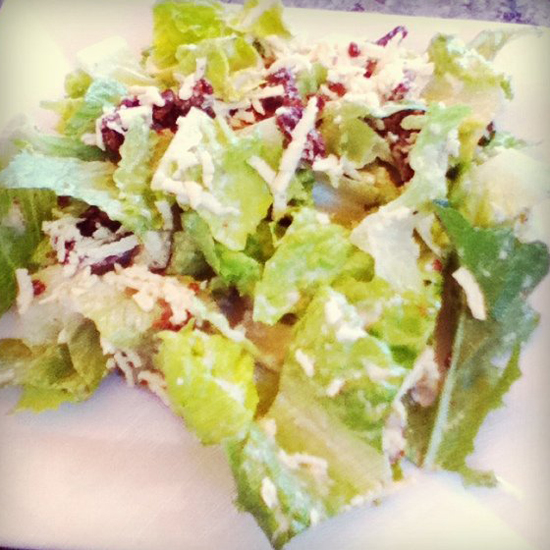 No eggs or anchovies here! Instead, this vegan Caesar salad dressing [44] uses vegan mayo, vegan Worcestershire sauce, and fresh lemon juice.
Source: Flickr user jerkalertproductions [45]
Tahini Salad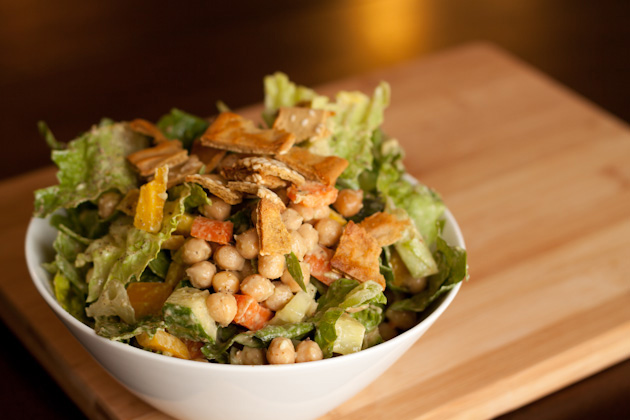 Can't get enough of chickpeas? This hearty vegan tahini salad [46] will keep you full and energized for the rest of the workday.
Source: Healthful Pursuit [47]
Millet Lentil Tomato Salad
When it comes to your grain choice, if you're in the mood for something a little different, try this millet, lentil, and tomato salad [48]. The make-ahead dish is a satisfying and filling daytime lunch and is easy to bring to work.
Source: POPSUGAR Fitness
Maple Tempeh Bacon Sandwich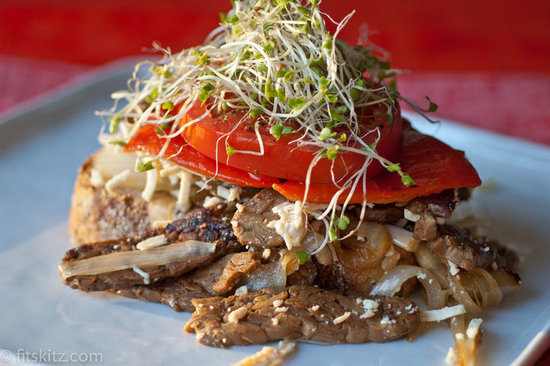 Pile it on. This sandwich filling, made of maple tempeh bacon strips and nutritious broccoli sprouts, can be made in advance the night before. At lunch, toast the bread and give the filling a quick nuke in your office microwave to melt your vegan cheese on top for a warm, comforting lunch. Get the maple tempeh bacon sandwich recipe [49].
Source: Fitskitz [50]
---
Links:
[1] http://markbittman.com/tag/vb6/
[2] http://www.fitsugar.com/Does-Vegan-Diet-Cause-Weight-Gain-33773298
[3] http://allrecipes.com//Recipe/vegan-split-pea-soup-i/Detail.aspx
[4] http://www.eatrawvegan.com/92/gennys-raw-green-pea-soup/
[5] http://www.flickr.com/photos/rikkis_refuge/4559414580/
[6] http://www.fitsugar.com/Healthy-Sweet-Potato-Salad-Recipe-31874999
[7] http://www.fitsugar.com/Butternut-Squash-Lentil-Soup-Recipe-Slow-Cooker-33494509
[8] http://slowclubcookery.blogspot.com/2013/06/raw-vegan-goat-cheese.html
[9] http://instagram.com/p/abRz5FO4HJ/
[10] http://www.fitsugar.com/Vegan-Pasta-Salad-Recipe-30829668
[11] http://www.fitsugar.com/Healthy-Soba-Noodle-Salad-Recipe-30572799
[12] http://www.fitsugar.com/Cumin-Spiced-Lentils-Quinoa-Recipe-29416399
[13] http://www.fitsugar.com/Carrot-Cabbage-Detox-Salad-31851363
[14] http://www.fitsugar.com/Cauliflower-Rice-Recipe-30571642
[15] http://instagram.com/p/ajf5EThlfM/
[16] http://www.fitsugar.com/Vegan-Avocado-Quinoa-Recipe-16105815
[17] http://www.fitsugar.com/Paleo-Pad-Thai-Recipe-32022190
[18] http://www.fitsugar.com/Vegan-Curry-Recipe-From-Eat-Drink-Vegan-19181746
[19] http://healthy-recipe-group.fitsugar.com/Curly-sweet-potato-veggie-wrap-23634039
[20] http://www.pure2raw.com/2012/06/curly-sweet-potato-fries-veggie-wrap/
[21] http://healthy-recipe-group.fitsugar.com/Comfort-Cravings-Healthier-Vegan-Mac-Cheese-7497682
[22] http://healthy-recipe-group.fitsugar.com/Holy-Guacamole-Cream-Pasta-14652794
[23] http://www.healthfulpursuit.com/2011/03/holy-guacamole-cream-pasta-crackers/
[24] http://eatair.blogspot.com/2005/12/chickpea-salad-sandwiches.html
[25] http://www.flickr.com/photos/rusvaplauke/905363131/in/photolist-CBXnW-2o1dVa-7ZAJPV-b9V8gR-9gw2it-9yty7q-cGDjBw/
[26] http://vegetarian.about.com/od/maindishentreerecipes/r/ThaiSpringRolls.htm
[27] http://www.flickr.com/photos/veganfeast/3885630459/
[28] http://battleofthebanhmi.com/how-to-make-banh-mi/recipes-vegetarian/banh-mi-recipe-lemongrass-tofu/
[29] http://www.fitsugar.com/Vegan-Buckwheat-Salad-Recipe-15026175
[30] http://social.popsugar.com/user/amusesbouche
[31] http://www.healthfulpursuit.com/2012/10/california-rolls-edamame-pate/
[32] http://www.healthfulpursuit.com/2012/10/california-rolls-edamame-pate/
[33] http://www.yumsugar.com/Vegan-Thai-Burrito-Recipe-14146278
[34] http://social.popsugar.com/user/girlA
[35] http://www.vegetariantimes.com/recipes/11336?section=
[36] http://www.fitsugar.com/Vegan-Egg-Salad-Recipe-22440369
[37] http://www.flickr.com/photos/rooey/5036419054/
[38] http://www.healthfulpursuit.com/2012/06/vegan-curry-quinoa-burgers-gluten-free-burger-buns/
[39] http://www.healthfulpursuit.com/2012/06/vegan-curry-quinoa-burgers-gluten-free-burger-buns/
[40] http://www.sweetonveg.com/2010/04/guacamole-salsa-verde-garlic-toast/
[41] http://www.flickr.com/photos/sweetonveg/4548229007/
[42] http://fitskitz.com/2012/09/18/mistake-less-meals-asian-noodle-bowls/
[43] http://fitskitz.com/2012/09/18/mistake-less-meals-asian-noodle-bowls/
[44] http://www.divinecaroline.com/life-etc/home-food/vegan-caesar-salad-dressing-meyer-lemon
[45] http://www.flickr.com/photos/jerkalertproductions/5458957829/
[46] http://healthy-recipe-group.fitsugar.com/Creamy-Tahini-Salad-14562302
[47] http://www.healthfulpursuit.com/2011/03/sesame-socca-crackers-creamy-tahini-salad/
[48] http://www.fitsugar.com/Millet-Lentil-Tomato-Salad-Recipe-18373606
[49] http://healthy-recipe-group.fitsugar.com/Maple-Tempeh-Open-Faced-Sandwich-24765661
[50] http://fitskitz.com/2012/08/20/maple-tempeh-open-faced-sandwich/

---