Start a Healthy Tradition on New Year's Eve
A Different Way to Celebrate the New Year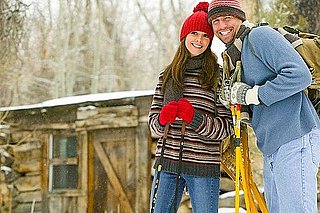 New Year's Eve is synonymous with going big. Champagne, lavish dinners, and all-night parties are how many people I know will be spending the holiday. I thought I'd be right beside them, especially since I give myself a bit of a free pass when it comes to the holidays. Not so this year.
Even though the last Christmas cookie was devoured days ago, I still feel a little slovenly from it all. (And I still went to my gym as much as ever!) The triple play of Thanksgiving, Christmas, and New Year's makes for a lot of indulging in a small time period — there's just so much butter and eggnog a girl can ingest.
Since Christmas, I've been on a mainly raw food diet. It wasn't intentional or thought out; I think it's just my body's response to overindulging during the holidays. And with NYE just days away, I'm not the least bit excited about swilling champagne or hitting a dinner party. I'm done. Zip me up in a sleeping bag and wake me when 2010 is here. I just can't do any more refined sugar, champagne, or fatty foods in the name of celebrating.
To hear what I'll be doing for NYE, read more.
OK, I'm being dramatic, but I am skipping out on the champagne-filled New Year's Eve and opting for a healthier celebration with my family and friends. Instead of partying down, we're spending the weekend of NYE in Lake Tahoe. We're going to hike, do yoga together each morning, ski, and sled. Because we want to get the most out of shorter days and we all still feel weighted down from Christmas, we're doing it sans alcohol too. And that's fine with me — we're heading up there with tons of games, a Wii, and lots of healthy recipes to prepare together.
I'm excited to ring in the New Year in a healthier manner, and I think it's something I want to do every year. The holidays are definitely a time to celebrate, but it doesn't mean all your health and fitness choices need to be shelved until January. Will any of you be skipping the champagne this NYE?