Should You Exercise When You're Sick?
When Is It OK to Work Out Sick?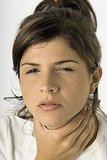 'Tis the season for coughs and sniffles. If you're like me, the idea of having to skip a workout because of a small cough seems crazy. When is the best time to choose rest over a treadmill though? Take my quiz to find out . . .